Jeremy Clarkson puts his foot in it again while on tour in Australia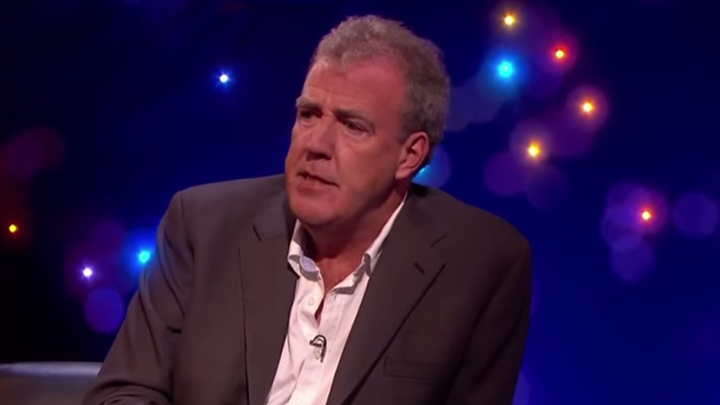 He was sensationally sacked by the BBC earlier this year following an abusive scene on set and now it seems Jeremy Clarkson is up to his old tricks and has learnt nothing.
Clarkson posted a photo of himself and Richard Hammond on Twitter outside the Margaret River Fudge Factory with the caption: 'We have got jobs at last. Here. As packers'.
Of course as many of us know, this isn't just a snide remark about getting a job again, he has used a gay slur… and many are not happy.
His joke was a nod to a phrase commonly considered a slur used to describe gay men, and has caused uproar. Many have called for Clarkson to stop the homophobic comments.
He is on his Clarkson, Hammond & May Live Tour – formerly called Top Gear Live – with his former co-stars, however it is not the first time Clarkson has offended the gay community, or the general community for that matter.
Ad. Article continues below.
Earlier last year he posted a horrible photo of himself with a sign saying 'gay c***' written on it, and an arrow pointed at himself whilst he was sleeping. He showed little remorse, tweeting, 'I have deleted my last tweet and would like to apologise profusely to anyone who I upset while I was asleep'.
The 55-year-old can't seem to get it right, with a career riddled with gaffs and foot-in-mouth incidents.
With that said, his behaviour has not perturbed fans of the popular car show he used to front – 14,000 fans turned up at the Perth Arena on Saturday night.
"Welcome, to what for legal reasons is now called Clarkson, Hammond and May Live,' Clarkson said after entering the arena on a hovercraft, reports the Daily Mail.
"For legal reasons, nothing we have ever done together has ever happened. Our lawyers tell us that, for legal reasons, we have never met".
Ad. Article continues below.
See the tweet below and tell us, was he out of line?
We have got jobs at last. Here. As packers. pic.twitter.com/93dkPuVRbu

— Jeremy Clarkson (@JeremyClarkson) July 20, 2015