Jane Fonda accepts prestigious film award in incredible green jumpsuit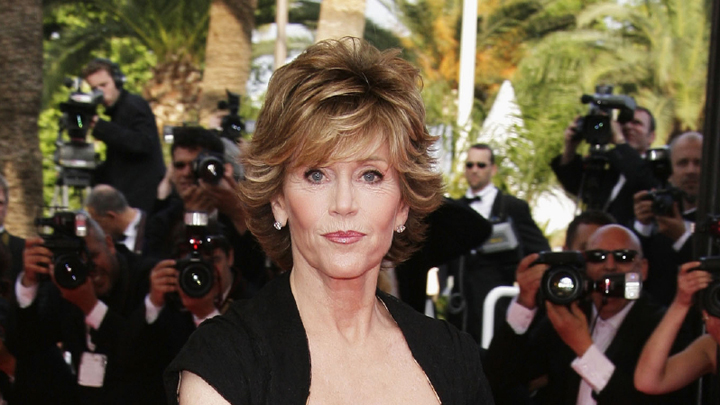 She may be 77 years old but Jane Fonda is still rocking styles a woman even 20 years her junior wouldn't pull off. Jane looked elegant and stylish in a green jumpsuit as she attended an award ceremony in Santa Barbara.
There is buzz around Ms Fonda for her role as an ageing movie star in 'Youth', with some sources hinting she's a strong contender for the best supporting actress award.
But on Saturday, it was all about the Kirk Douglas Award for Excellence in Film which was awarded to Jane Fonda.
On watching a slideshow of her most memorable roles, the actress said, "I looked at those clips and it was really hard to do.
"I just wish I could do them over because I could do it better — and I'm so glad I feel that way 'cause one of the things that can make you really old is when you stop wanting to change, and grow, and learn, and stay curious, you know?"
Ad. Article continues below.
Paolo Sorrentino's 'Youth' premiered to rave reviews at Cannes Film Festival in May and is due on early next year, reports the Hollywood Reporter.
Actress Elizabeth Banks introduced Fonda's montage and said, "Like Mr. Douglas, Jane is a true Hollywood legend, one from a celebrated family of actors and activists," she said. "She is a certified broad who collects wonderful women; she is outspoken, no-nonsense and trailblazing; she has had enough experiences to fill five lifetimes; she's had a career spanning five decades; and, if you spend five minutes with her, you know that she is nowhere near done yet".And fellow actress Diane Lane also spoke before Jane collected her award, thanking her friend for having "informed my life — our lives — with your courage, honesty and tremendous spirit.
"Recently, during promotional requirements for a movie, I was asked who Wonder Woman is to me. What do you think my answer was? Jane Fonda".
When she did accept her award, Fonda said, "How about Kirk Douglas? He looks good in a ponytail. … It's an honor to receive this award with his name on it".
She then said, "Acting has saved me many times. I have, over the years, taken hiatuses. I once left the business, I thought forever, [for Ted] Turner, my favorite ex-husband. Off I went, and I didn't miss it for a second. But I came back at 65, which is pretty unusual, and I feel very, very blessed that I was able to have a new career so late in life and, as a result, be able to spend time with people who are so profoundly inspired, moving and talented. And I'm so happy to say that I'm almost 78 — and I still feel like a student".
Ad. Article continues below.
Take a look at Jane Fonda in her awesome green jumpsuit. Do you love her look?