Jamie Oliver unleashes tirade on social media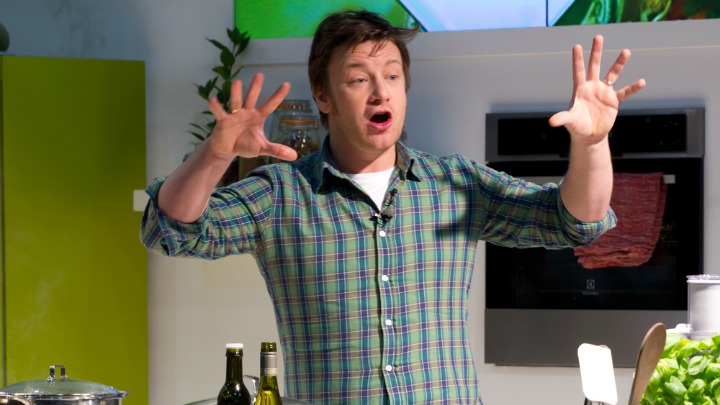 Jamie Oliver was dealt a bit of a blow yesterday and he certainly wasn't happy about it.
After hearing that the British government had failed to take a hardline stance on childhood obesity, something Jamie had spent months campaigning for, he uploaded a sternly worded (and some have said "bitter) tirade against the prime minister.
Jamie worked for months earlier this year trying to convince politicians to put a tax on sugar and crack down on junk food advertising aimed at children.
It's a cause close to his heart and one he evidently thought he'd won.
However, when PM Theresa May handed down her 'Childhood Obesity Plan For Action' yesterday, Jamie virtually hit the roof, first writing a harsh review on social media and then publishing an article in The Times newspaper.
Ad. Article continues below.
Ad. Article continues below.
"I'm in shock. The long-awaited Childhood Obesity Strategy from Theresa May's new Government is far from robust, and I don't know why was it shared during recess," he wrote on Instagram.
"My kids asked me why I was looking grumpy, so I had to explain to them that the prime minister had let British children down," he wrote in The Times.
"This was the moment we'd been waiting for — the first true test for our prime minister and the opportunity for the British government to say enough is enough.
"It could have been one of the most important pieces of work of our time, but instead it was prepared and delivered in the most underhand, insensitive, unstrategic way.
Ad. Article continues below.
"Everything about it stinks of 'we don't care'. We need to face facts: this problem won't go away unless we face it head on."
He went on to say the country was already in crisis and urged Ms May to reconsider.
Jamie has been campaigning for this issue for some time and has even said Australia should consider a sugar tax and taking a tougher approach to obesity and health.
There's no word yet on whether the government will respond to him, but it doesn't look like he's giving up any time soon!
Does Jamie have a point here? Does the whole world need to think more carefully about this issue?