Insider busts Hugh Hefner's playmate myths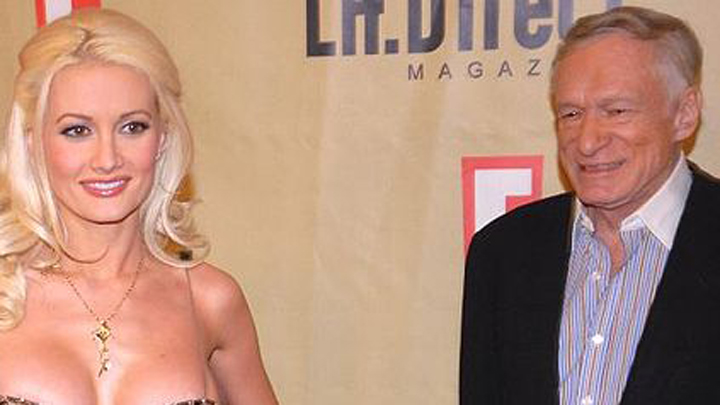 Hugh Hefner is the world's most infamous Playboy. Since he was a young man, it's been hard to ignore his special type of celebrity. There's no denying that Hef is a character but what we didn't realise is that even into his 80s, he wasn't exactly the pristine, angelic publishing magnate we thought he was.
All jokes aside, this week there have been some pretty shocking claims about his treatment of women. Instead of non-stop romps and relatively harmful banter, Hugh Hefner's former girlfriend Holly Madison, below left, (of Girls of the Playboy Mansion fame) has revealed that not all that glitters is gold.
In her new book, Down the Rabbit Hole: Curious Adventures and Cautionary Tales of a Former Playboy Bunny, Madison describes how she met Hugh when she was on the brink of homelessness. He offered her drugs and when she declined, he said, "Okay, that's good. Usually, I don't approve of drugs, but you know, in the '70s they used to call these pills thigh openers", reports Hollywood Life.
Ad. Article continues below.
But even though she said no to drugs, common sense did not prevail and Holly accepted Hef's offer to stay at the Playboy Mansion. "I want to scream 'PAUSE!' and freeze-frame that moment of my life. I want to grab that young girl, shake her back into reality and scream, 'What the hell are you thinking?'", she said in hindsight.
And apparently Hugh isn't the lothario he has always been made out to be. "When I think about it now, it's almost comical. Every red-blooded American male has no doubt fantasised about what went on in Hugh Hefner's bedroom with his harem of blond bombshells. The answer? Not a whole lot," Holly wrote.
"My turn was over as quickly as it started".
She also went on to say that Hugh was a master manipulator and pitted girlfriends against one another, and did not treat her well.
When she finally came to her senses and moved out, the Playboy founder tried to get her to stay by putting her in his will.
Ad. Article continues below.
"It was there, in black and white…The will stated that $3,000,000 would be bestowed to Holly Madison at the time of his death (provided I still lived in the Mansion). At the time, it was more money than I'd ever know what to do with… But I didn't want it. I actually pitied him for stooping to that level. I couldn't help but be offended. Did he really think he could buy me? I put the folder back on the bed just as I had found it and never breathed a word of it".
Hugh, 89, is now married to Crystal Harris, 29 and has been for three years. Who knows how it's going but it's safe to say that Hugh will never change.
Tell us, what are your memories of the Playboy mogul? Do you think he's a dirty old man or just having fun?