Indigenous Australian musician Gurrumul gets amazing support and praise from Quincy Jones on sold-out US tour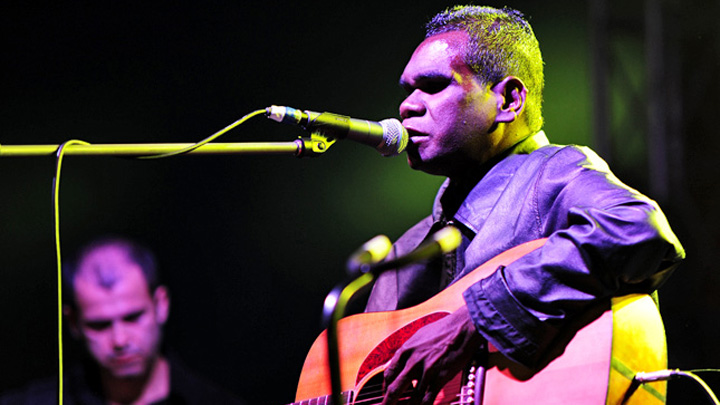 On his very first US tour, Gurrumul has received incredible praise and support from award-winning Motown producer Quincy Jones.
Quincy is known for producing Michael Jackson's biggest albums and is one of the most highly-respected people in the music business.
Gurrumul, on the other hand, is a shy man, blind from birth and from remote the indigenous community of Elcho Island. Known for his haunting vocals, sung in his native Gumatj dialect, this is one of Gurrumul's first international tours on the back of his huge success here in Australia.
Now in New York City, the ABC reports Quincy Jones has sung Gurrumul's praises in a video message. The producer said, "It's unbelievable. I know you're going to get blown away as much as I was when I first heard him.
"This is one of the most unusual and emotional and musical voices I've ever heard".
Ad. Article continues below.
On his Facebook page, Mr Jones said, "When you look at the cultures of the indigenous peoples of the lands, there is always such authentic beauty".
Geoffrey Gurrumul Yunupingu, or Gurrumul for short, was meant to play in the US before but plans fell through. This didn't stop the hype to get tickets to his show – he played to a sold-out audience at the Subculture club in Manhattan's NoHo district last week.
Elton John also loves Gurrumul's music, and Sting has recorded a collaboration with him with Gurrumul toured Europe.
Gurrumul is known for his shy nature and few words due to cultural beliefs, therefore he does not do press tours.
Although he sings mostly in his native language, however he uttered a few English words recently, once in the song 'Gurrumul History' – "I was born blind / And I don't know why" – and to tell his crowd, "We love you, New York".
Ad. Article continues below.
Here is a clip of Gurrumul singing in his beautiful way. Tell us, have you seen this incredible musician play live?