"I will celebrate her life": Joan Collins breaks silence on sister Jackie's sad passing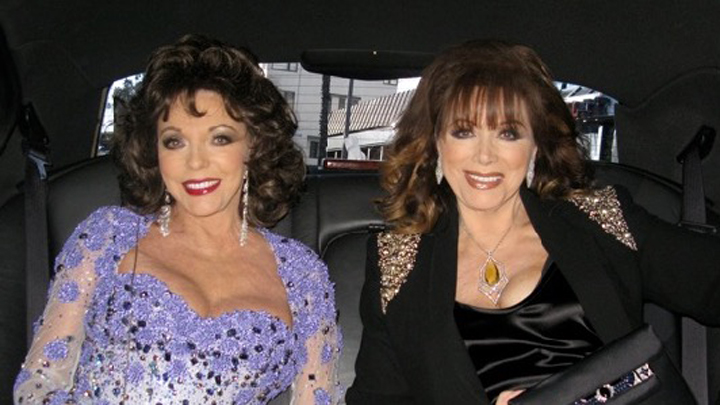 Losing a brother or sister is one of the most difficult times of your life. You've shared bonds that have gone from the very first moment you met, shared secrets you'd only share with each other, and shared a lifetime of memories.
When Joan Collins' younger sister Jackie died on September 19, the author lost a part of herself, but explained in a beautiful column for the Daily Mail, that she wanted to honour her sister's memory and celebrate her life.
She told of how she only found out about Jackie's stage four breast cancer seven years after diagnosis, despite being so close to her sister.
"Why didn't you tell me?", she said.
"I couldn't – I didn't want to upset you. I know all the problems you've been having in the past few years – I didn't want to burden you with mine", Jackie responded.
Ad. Article continues below.
Joan wrote that her baby sister always considered others and didn't want her to worry. Her children Tiffany and Rory expected their mother to live for years longer as she was so "vital and energetic".
"Jackie was coming to the UK ostensibly to publicise the launch of her latest novel. However, now, in retrospect, I realise it was to say goodbye to her third daughter Tracy, her two granddaughters, her brother Bill and his wife Hazel, and some other close friends, all of whom lived in London", Joan wrote.
"I've never had a better girlfriend than Jackie, with whom I shared so much in common.
"Jackie really enjoyed her life so much and lived it to the hilt, and when we were together, even if we hadn't seen each other for a few months, we were thick as thieves.
"I used to nag my sister about getting mammograms, as our darling mother Elsa had succumbed to the disease in 1962 when she was in her early 50s. I was religious about doing mammograms regularly. Jackie, however, refused – she didn't even like going to doctors. She was needle-phobic".
Ad. Article continues below.
Joan said that Jackie did things her own way, and "I therefore choose to remember her as the strong, independent, loyal, caring, maternal, fun-loving, witty, joyful woman she was".
"I don't think I will ever recover from the sadness of losing my beautiful baby sister. Someone once said: 'The reality is you don't "get over" the loss of a loved one, you learn to live with it'.
"I will not mourn her death, but rather celebrate her life. She will live on in the wonderful memories I have of her from our childhood and particularly from the last 15 years.
"I feel her spirit, I hear her wonderful laugh and I see her all the time in the hundreds of photos of her sprinkled around my home. She wasn't just a star – to me she was an entire galaxy.
Have you lost a brother or sister? Can you relate to Joan's beautiful words?