How to save space on your smartphone or tablet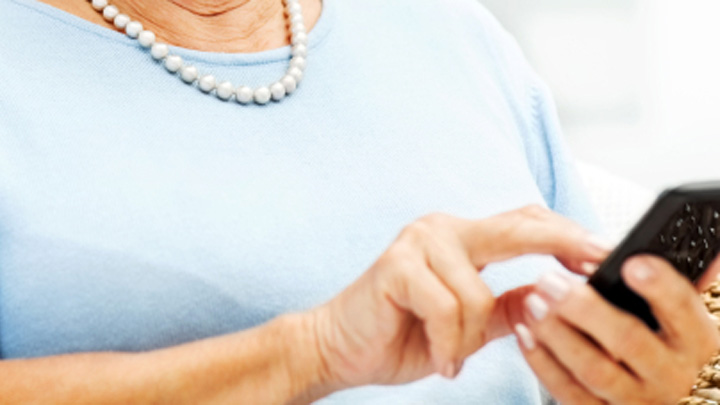 Have you ever had a notification saying there isn't enough space on your phone? It's frustrating, isn't it? Follow these tips to maximise the capacity on your smartphone or tablet. With these suggestions you'll hopefully never see that message again so you can get back to using your device.
1. Delete apps you don't need
There are probably numerous apps on your phone that you rarely use. This will free up heaps of space with very little effort. To delete an app, you simply press on the icon and wait for it to start to giggle. Then tap the X in the left corner and voila – goodbye space waster!
2. Find out what apps are taking up the most space
Ad. Article continues below.
Some apps unexpectedly use a huge amount of space. To see how much space apps use just go to Settings > General > Usage and tap on Manage Storage under Storage (not under iCloud). Wait for the apps to appear and scroll through the list. Likely your biggest space users are Photos and Music but other culprits include Messaging apps. A general rule of thumb is if an app you rarely use takes up 300MB of space then delete it – you can always download it again later.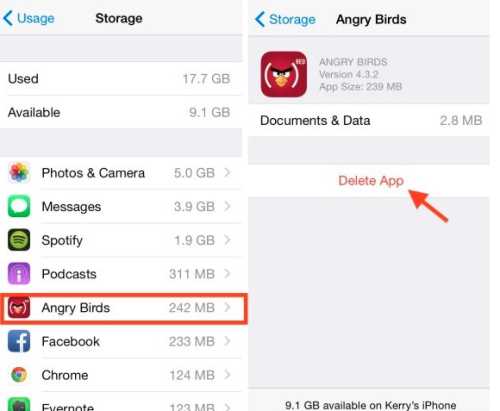 3. Stop using photo stream
If your photo stream is turned on it will show all your photos taken between your devices. It takes up a lot of space on your phone. If you seriously need the space go to Settings > Photos & Camera and deselect Photo Stream. Unfortunately this means the photos will no longer be on your other devices either.
Ad. Article continues below.
Also, don't join other people's photo streams. You can create and share photos with other people through photo streams. It can be a great way to share images of events you've attended or pictures of your grandkids but it can also quickly fill up you phone. Turn off your photo sharing! To do this go to Settings > Photos & Camera
4. Set your messages to automatically expire
Do you ever look back on your messages after a year? Probably not, so this is a no-brainer solution to creating more space on your phone. Go to Settings > Messages. Under Keep Messages, select 30 or 1 year.
Ad. Article continues below.
5. Don't keep both photos using HDR
If you're taking photos on HDR (High Dynamic Range) your phone stores both a regular and HDR version. This happens if you have HDR on Auto or Always On. If you want to shoot in HDR then you don't need the regular version as well. Go to Settings < Photo & Camera and then scroll to the bottom and deselect Keep Normal Photo.
Ad. Article continues below.
6. Sign up for a streaming music service
If you love iTunes, sign up for iTunes Match. For a small fee each year, you can have every song from your iTunes library accessible via the cloud. This means you can download any album to your phone by tapping on the cloud icon next to it. Then if you want to delete the track from your iPhone, just swipe left to delete it.
7. Delete photos you don't need
Your photo app is likely using the most amount of space on your phone. We know it can be hard to part with your photos so upload them to your computer first and delete them from your smart device.
Ad. Article continues below.
8. Close all unused apps
You might have a whole heap of apps open on your phone and don't even realise they are taking up valuable storage space. Closing these apps is simple and doesn't involved deleting anything!
On an Android device, go to main screen, click on the third icon on the bottom of your screen (looks like windows), and you can either manually swipe out of them or press the broom to remove all. It will sweep them away and it might tell you how much memory you freed up, recent apps or the apps you have still got open. It's a great way to close them all at once and free up space on your device.
On an Apple product double click the button on the bottom on your screen and swipe all icons up. Repeat this for each app.
Ad. Article continues below.
9. Move apps to SD Card or USB storage (buy more storage)
On an Android phone you can put in an external micro-SD card that will expand your space. You can get one up to 64GB and this will definitely be enough storage! Although if you follow all of the steps above you won't need to buy additional space.
On an Apple product, you can also buy more space via your iCloud. But again, if you follow the suggestions above, hopefully you won't need to do this!
Tell us, did you find this helpful? Will you try any of these?