How do older music groups and singers get new music heard?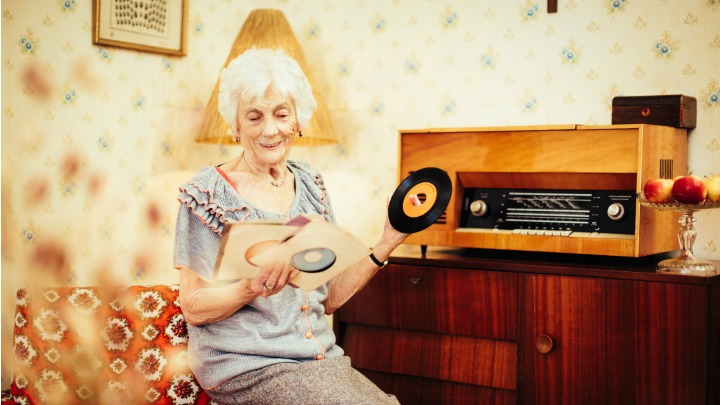 It's hard to argue the point that when looking to hear new music, it's made easy for young people listening to young artists. But it's more difficult for older artists still making new music. Or is it?
While you'll hear artists such as The Beatles and The Rolling Stones on the radio, it's generally on classic radio stations only, and it's their older hits. I can't really remember the last time I heard new Stones, or new solo tracks by Paul McCartney and Ringo Starr. Can you? On occasion you might hear new their music in a film soundtrack, often over closing credits. This happened with McCartney's Vanilla Sky, from the 2001 film of the same name.
So what other ways do older artists find to have their music heard, and how do we find it?
As a starting point, it's an excellent idea to have a look and see if the group or solo artist has their own website. For one, they'll publish news of what they're up to, if they are touring, and if they have any new music. They might direct you to where to buy the music, if it's available to buy online, and in some instances they might give away some free songs, or preview of the new songs right there to listen to. Look to see if the website offers a newsletter to sign up to, or if you can sign up to an RSS feed, so rather than having to go look for news of new songs, instead the news comes to you.
Ad. Article continues below.
Another place to hear new music from established acts of the 1950s/60s/70s is to attend live shows. Not only will they showcase the hits you know and love, but if they're still writing new material, chances are they'll play it. Again, signing up to newsletters will let you know when and where they are touring.
Some artists start up their own record labels. It helps them control all the aspects of music, from style and song choice, right through to how they sell it.
I know it's a tough world, I've just found another door
I'm running a small shop, In the age of the global superstore
This is from the Glenn Tilbrook song, G.S.O.H Essential. Tilbrook was the lead singer and songwriter of the UK group Squeeze (somewhat unfairly called a one-hit wonder group, via its 1979 hit Cool For Cats). That group sold a lot of records in the late 1970s and early 1980s, but they saw little of the money. Tilbrook has said in interviews that not only is keeping control of his and the group's music now more profitable per record (though selling far fewer records), but he is a lot happier as an artist.
In regard to the song quoted above, what Tilbrook perhaps missed is that his small shop is actually on the global superstore – the internet. As mentioned above, you can use the search engines to find the artists' own websites, and their new music. The other aspect of the internet that can really give you direct access to their new music are some of the new streaming music services.
Ad. Article continues below.
If you're not sure what streaming music is, I recommend that you read our article, The baby boomers' guide to music streaming. This article mainly discusses a service called Spotify, but there are a lot of choices now, such as Rdio, Pandora, and Apple's new streaming music service, Apple Music. In the case of Spotify, Rdio, and Pandora, you can listen sign up and listen for free, you will just have to put up with listening to an ad or two every few songs. All offer a Premium service that is ad-free, with the price ranging from $8 to $15 per month.
That small price gives you access to millions of songs, from a similarly large artist list. Not all the artists are on all the services. For instance at this point, Apple Music is the only one that has The Beatles music listed. Still, the option is there for you to look, try, and if you like buy, or stay with the free options.
One last brilliant point of streaming music services is that you can subscribe to an artist, so again you are automatically alerted if there's any new music from that artist. The more you listen, the more the service learns what you like, and will let you know if there's new music added, or suggest similar music.
You can also construct your own music playlist, either by building it song-by-song, artist-by-artist, or, pick one song or artist and have a playlist automatically built based on your choice. I love going on and switching on my Spotify list, currently at 1,810 songs, or 116 hours and 12 minutes of music if I listen continuously.
Ad. Article continues below.
These streaming music services are available via the following devices:
Spotify – Web, Desktop, iOS, Android, Windows Phone
Pandora – Web, iOS, Android, Android Amazon store, Windows Phone
Rdio – Web, iOS, Android and Windows Phone
Apple Music – via iTunes, on iPhone, iPad, iPod touch, Mac or PC
So there you are. Via the old ways we found music, such as radio and TV and in-store advertising, the new music of old artists we love is near invisible. But the brave, always-on new digital world gives us what is I think easy ways to keep on top of the music that keeps on keeping us young.
Have you tried any of these suggestions to keep on top of what older groups and singers are doing? Do you have your own ways of finding their music? Let us know in the Comments section.