Happy Birthday Honor Blackman (it's a big one!)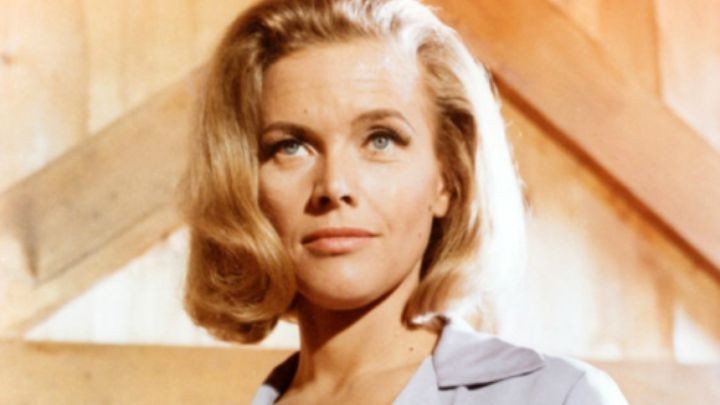 She was crim-busting Cathy Gale in The Avengers, and played one of the most memorable Bond girls of all time, Pussy Galore. And today, she is celebrating a very special birthday.
But that doesn't mean for a second that Honor Blackman is slowing down. Far from it. The British actress, who turns 90 today (yep, 90), has continued accepting theatre roles in London's West End throughout her 80s, and told the Press Association there's plenty more travel she would like to do.
Honor Blackman's most memorable trips http://t.co/ehc5yeQfJ9 | https://t.co/uAAxN8SzoM pic.twitter.com/NIdgrXZJhY

— Erentals (@Erentals) August 22, 2015
Canada and Fiji are destinations she has in mind, however she accepts that it might be more of a logistical challenge these days.
Ad. Article continues below.
"I suppose it's so difficult to know how one would travel comfortably now," she said from her home in Spain. "Because one doesn't want to bang about between railway stations, so um, I really wish I had a team of sit-down chair carriers, and I could be flown wherever and then carried where I need to go!"
Ms Blackman was already a star in the UK when she was "discovered" and became the oldest actress to play a Bond girl.
Film producer Albert R. Broccoli said that Blackman was cast opposite Sean Connery in the James Bond films based on her success in the British TV series The Avengers. He knew that most American audiences would not have seen the program.
Ad. Article continues below.
Broccoli said, "The Brits would love her because they knew her as Mrs Gale, the Yanks would like her because she was so good, it was a perfect combination."
By then, Ms Blackman had appeared in numerous films, including So Long at the Fair (1950), in which she appeared with Dirk Bogarde, A Night to Remember (1958), an account of the RMS Titanic; and the comedy The Square Peg (1958).
She would later appear in Life at the Top (1965) with Laurence Harvey, The Virgin and the Gypsy (1970), and the Western film Shalako (1968) alongside Sean Connery and Brigitte Bardot and Something Big (1971) with Dean Martin. Eternally gorgeous, she also popped up in Bridget Jones's Diary (2001) and Jack Brown and the Curse of the Crown (also 2001).
Ms Blackman will spend her birthday celebrations with family, including all four grandchildren, and friends in Spain.
Ad. Article continues below.
"I've got all of my family here which is great," she said,
"If I could wish for something I would wish for my health to remain fairly steady so that whatever is in the future, I can really enjoy. I don't fancy the idea of tottering about and not feeling well, I want to be well enough to do things and not be beholden to other people for all the things I need."
Reflecting on her career, interestingly her highlight is not Bond or The Avengers, but rather her role in Stephen Sondheim's musical A Little Night Music.
"It was the most, one of those things where you've reached a certain age and the part is perfect for you and you emotionally understand the part. It was the most satisfying thing and I know that I did it very well."
That said, she admits she did get to work opposite some pretty special leading men:
Ad. Article continues below.
"Of course it goes without saying, working with Patrick (Macnee) on the Avengers was great, I mean, great fun, terribly hard work but great fun and he was so lovely," she said. "And Sean (Connery) was a bit of all right to work with too!"
Join us in wishing Honor Blackman a happy 90th birthday!