Getting set for the wedding of the decade...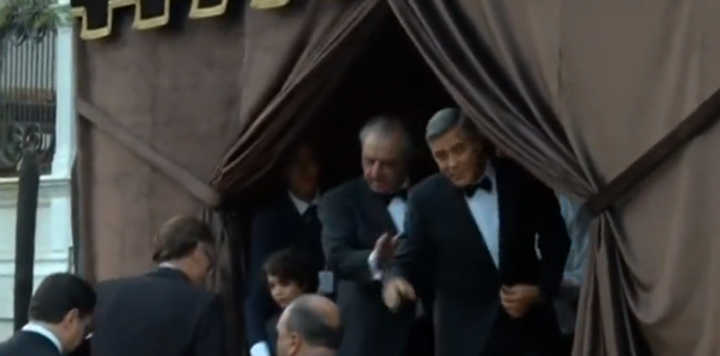 Every now and then we take a peep into Hollywood. And this weekend, with the world's hottest mature bachelor being taken off the market, it seems fitting to take a peep into the wedding weekend fun of George Clooney and Amal Alamuddin in Venice Italy. Clooney, now 53 years old is all set to marry the 36 year old love of his life and has had friends and family jet into the floating city from all over the world. The couple will be married formally in a civil service on Monday, but have enjoyed their formal event today. And in the lead up to the wedding, which is said to be happening today, we thought we'd take a look at the events of the past 48 hours in the Clooney Almuddin enclave and see how the rich and famous do weddings.
Images are starting to roll in from their various pre-wedding activities, with friends and loved ones joining them. Guests photographed at the star-studded weekend include Cindy Crawford and her husband Rande Gerber who is believed to be Clooney's best man, Bono, Matt Damon and his wife Luciana Barroso, Bill Murray, Anna Wintour, Richard Kind, Ellen Barkin. We've included a selection below and will keep you updated on the gorgeous couple as the photos become available.
Enjoy… Are you a George Clooney fan?
The beautiful couple
Ad. Article continues below.
Vogue Editor Anna Wintour
Ad. Article continues below.
Ad. Article continues below.
Romantic Venice… a gondolier awaits the guests of the Clooney wedding
The Aman Hotel the exclusive seven star hotel in which the wedding party is staying in Venice.