Gabi Grecko and Geoffrey Edelsten's bizarre wedding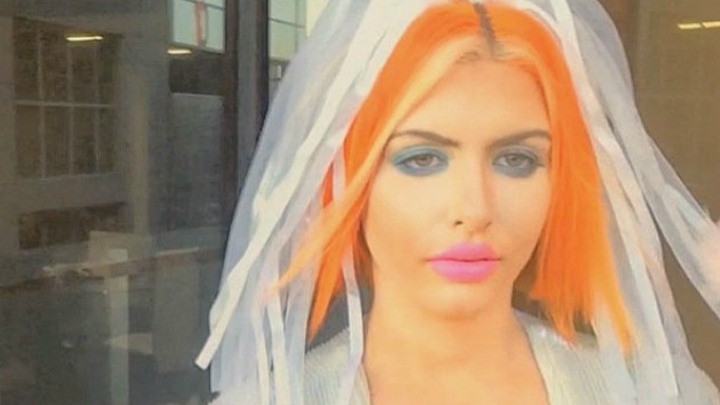 With their usual shenanigans, you might have expected the nuptials of Geoffrey Edelsten, 72, and Gabi Grecko, 26, to be an elaborate affair, however the pair was quietly married yesterday with barely an iPhone to capture the event.
While Grecko and Edelsten played down the quiet ceremony in a dingy registry office in Melbourne, it didn't take long for the truth to emerge in the media.
In initial reports, Gabi said she wanted a "no fuss last-minute tacky Vegas theme".
"I want it to be more fun, it's not going to be the serious wedding that I want, but we'll do that later. I'm still planning that. I've designed my dress."
Gabi and Geoffrey marry in low-key ceremony http://t.co/KdmVc1kq61 pic.twitter.com/jd6SpPl5o8

— news.com.au (@newscomauHQ) June 11, 2015
Ad. Article continues below.
She even managed to explain away the lack of guests: "Not even his mum is coming, Esther was invited but we felt because my parents couldn't come that it wouldn't be fair if one side was there and not the other."
It seems this is a case of wishful thinking.
Ad. Article continues below.
A report just hours later in the Daily Mail revealed the odd couple needed to execute a shotgun wedding of sorts: only the urgency was created by the fact the American lady's visa was due to expire in a matter of hours.
Welp, the nails I created for @Gabi_grecko at the top secret wedding of the century – love you, Gabi xx pic.twitter.com/Xc5CMBZiXk

— Erin Margrethe (@erinmargrethe) June 11, 2015
Nonetheless, the model managed to throw together a wedding outfit that suited her quirky – and revealing – style, a plunging Diane von Furstenberg gown, worn with streamers to replace a veil. Her with sharpened pink talons each bore a poufe of pink feathers.
Edelsten, who has been married twice before, was all smiles, wearing a matching white suit with diamante detailing and a shimmering tie.
On her Instagram account, Mrs Grecko wrote, "Will the REAL. MRS Edelsten stand up," referring to her new husband's recently settled divorce with Brynne Edelsten.
Will you join us in wishing the (new) Edelsten's a long and happy marriage? Share your thoughts below.