Freedom: Two men separated by time; united in search for redemption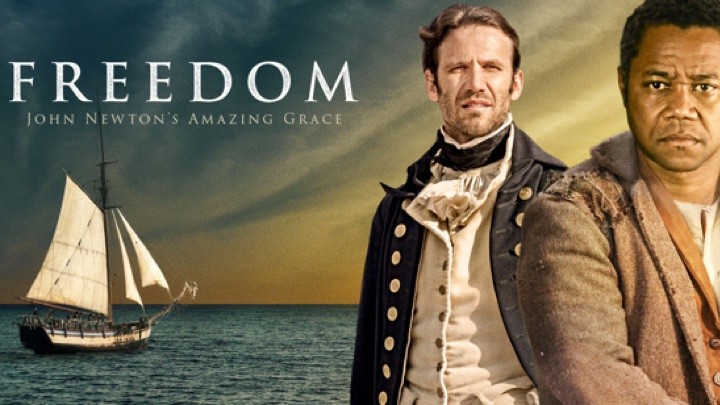 Based on a true story, Freedom celebrates the tale of two men separated by time and circumstance but united in their search for freedom and redemption.
The year 1856…slave Samuel Woodward (Academy Award Winner Cuba Gooding, Jnr.) and his family escape their wretched existence from an oppressive Virginian plantation to begin the long and perilous trek to Canada via an underground railroad. Relentlessly pursued by the notorious slave hunter Plimpton (William Sadler), and haunted by the unthinkable suffering, Samuel is forced to decide between revenge or freedom.
Cast back to 1748…respected Captain John Newton sets sail across the sea to the New World on a tall ship full of slaves – one is Samuel's great grandfather. Questioning the virtues of his assignment, Newton faces sickness, sorrow and a fierce storm that will endanger the entire ship. Challenged by personal pressures of faith and conscience, both men are tested on their respective journeys but are distantly united by a remarkable bond that creates a legacy for the lives of millions to come.
In his feature film directing debut, Australia's much-loved theatre star Peter Cousens shines the spotlight on the unheralded bravery of ordinary people risking their lives to give hope and freedom to others. Highly respected throughout the Australian entertainment industry, Peter Cousens is best known for his musical theatre roles in The Phantom, Les Miserables, West Side Story and Miss Saigon as well as your small screen favourites Cop Shop, The Sullivans, Sons and Daughters and Return to Eden.
Filmed by legendary cinematographer Dean Cundey (Back to the Future, Apollo 13 and Jurassic Park) Freedom also features Grammy nominated singer Jubilant Sykes contributing his extraordinary voice to the film.
Ad. Article continues below.
Watch the official trailer below.
To celebrate the DVD and Digital release of FREEDOM, Heritage Films have generously offered Starts at 60 readers an exclusive 20% discount on purchase.  
To order or download your copy, go to www.store.movieschangepeople.com and use discount code SAS60.
Also available on iTunes or in any JB HIFI store.
Heritage Films are passionate about movies that inspire and nourish life with the intent to make a positive difference in our world. To learn more about Heritage Films and our inspiring content, go to www.movieschangepeople.com