Fans shocked as Harrison Ford hobbles on stage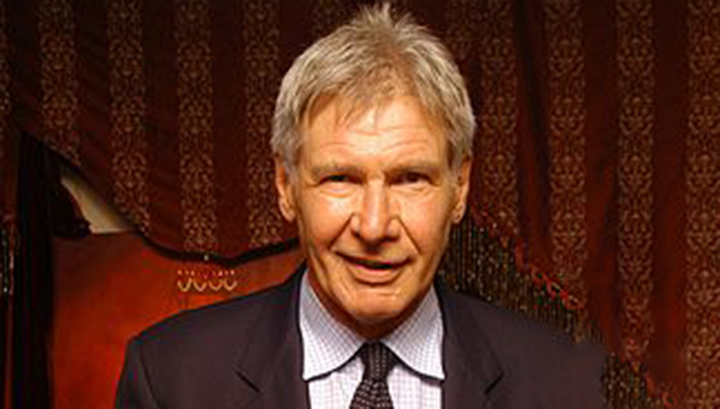 In his first public appearance since a place crash that almost killed him, Harrison Ford cut a sad figure as he hobbled on stage using a plastic light sabre as a cane.
Stunned fans went silent as Harrison's Star Wars co-stars Mark Hamill and Carrie Fisher grinned and rolled their eyes.
Casting aside his walking aide, 72-year-old Harrison Ford beamed at the crowd, holding his hands out as if to say "gotcha!"
MT @APEntertainment: Harrison Ford makes first public appearance since March plane crash: pic.twitter.com/BthYhYemDO #ComicCon2015

— The Associated Press (@AP) July 11, 2015
Ad. Article continues below.
For the crowd of die-hard fans, many of whom has slept outside the Comic-Con, a pop culture convention, in San Diego for days. it was a well-earned surprise.
Harrison joined his co-stars from the original Star Wars films. plus cast members from the latest film  for a behind-the-scenes look at The Force Awakens, followed by a concert in which the light sabres were put to good use. The surprise outdoor concert featured Star Wars music, performed by the San Diego Symphony.
Back in action! Harrison Ford made a surprise appearance at the Star Wars Comic-Con panel http://t.co/Gu8HmNRPz1 pic.twitter.com/5RRDUthMtm

— People magazine (@people) July 11, 2015
The panel was Harrison Ford's first public appearance since crashing his light plane earlier this year, whch came just months after breaking his leg on set of Star Wars: Episode VII.
Ad. Article continues below.
He received a standing ovation from fans as he walked on to the stage. The Indiana Jones star looked touched by the gesture and assured the crowds he felt "just fine".
Han Solo's still a wiseguy! #HarrisonFord fake hobbles at the #StarWars concert https://t.co/Qu7UxAdv1c pic.twitter.com/FnIWcB3UaS

— Yahoo Movies (@YahooMovies) July 11, 2015
Star Wars director JJ Abrams told the fans at Comic-Con to expect a preview of the film later this year.
Although he's yet to fulfil his pledge to fly again. It's great to see Harrison Ford back in action, and clearly he still has a wicked sense of humour.
Will you be seeing the latest instalment of the Star Wars franchise?