Fans divided over Bob Dylan's concerts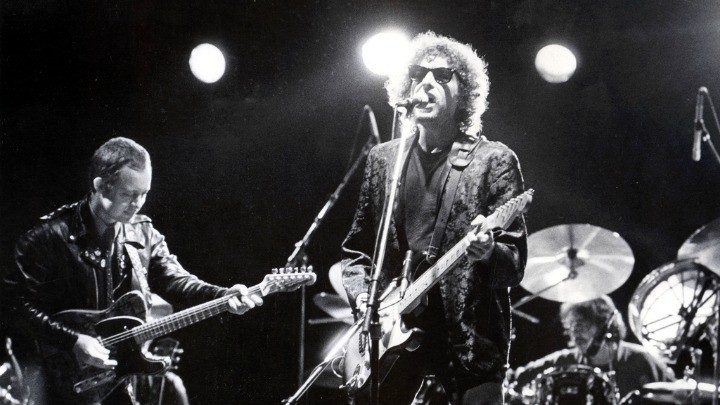 There have been grumblings on social media that Bob Dylan's concerts have become predictable and are lacking the surprise element. Meanwhile, others complain the "poet laureate of rock'n'roll" uses too much creative licence and  doesn't perform the songs the way they remember them.
How can the 74-year-old legend win?
As he made his way around the states in April and May, Bob Dylan played the following the same songs in the same order. No ifs, no buts.
If you were to see a single concert, you'd most likely come away thrilled to have been gifted those particular songs from Dylan's vast repertoire. But if you were one of the legions of "Bobcats", fans who trek to as many concerts as possible, I guess you could get bored hearing the same set every night.
As PopMatters comments, "The rock tradition is to value surprise in a show: not knowing what song is next, the feeling that anything can happen."
Ad. Article continues below.
Leaping to Dylan's defence, Chris Shields, writing in the SCTimes says, "Let's face a fact here: Bob just turned 74. He's not a 24-year-old firebrand anymore. And that's OK. Really, he's toured so much since the late 1980s… He's given variety. He's done covers. He's revamped songs, tossed setlists from night to night. Name a song, he's probably done it. He's given all we can ask, and more.
"If having a fixed setlist helps him in his performances and takes out some of the burdens of touring, and helps him stay on the road to bring his carnival of characters and his laments to his devoted audiences, so be it. I think that's a fair trade."
Shields goes on to point out that the set set-list allows Dylan and his band the freedom to get creative with the songs, which is a mixed blessing considering complaints from everyday fans that Dylan doesn't stick to the rules, ie playing the songs the way they were originally recorded, changing both melody and lyrics depending on his whims.
In a review on American Songwriter, Paul Zollo writes, "People invariably come to Dylan shows and wonder why he doesn't sing his famous melodies the way we learned them. But the truth, of course, is that even in the studio when recording these now iconic songs – such as Like A Rolling Stone, for example – the songs were always shifting and changing, as he tried them on in a variety of ways."
Dylan himself said, "Well, they're not written in stone. Even Tennyson would do that. He'd rewrite his poems after they were finished."
Ad. Article continues below.
Bob Dylan has been on a "never-ending tour" since 1988. By May 2013, he and his band had played more than 2,500 shows. Having wrapped up in the US, Dylan will next head to Europe.
And In case you were wondering, the current set list is: Things Have Changed, She Belongs To Me, Beyond Here Lies Nothin', Workingman's Blues #2, Duquesne Whistle, Waiting For You, Pay In Blood, Tangled Up In Blue, Love Sick, High Water (For Charley Patton), Simple Twist Of Fate, Early Roman Kings, Forgetful Heart, Spirit On The Water, Scarlet Town, Soon After Midnight, Long And Wasted Years, Autumn Leaves, Blowin' In The Wind and Stay With Me. 
Tell us: Would you be disappointed if Bob Dylan didn't play the songs you remember, the way you remember them? Do musicians owe it to their fans to stick to the rules?