Edelsten wedding may be more shotgun than we thought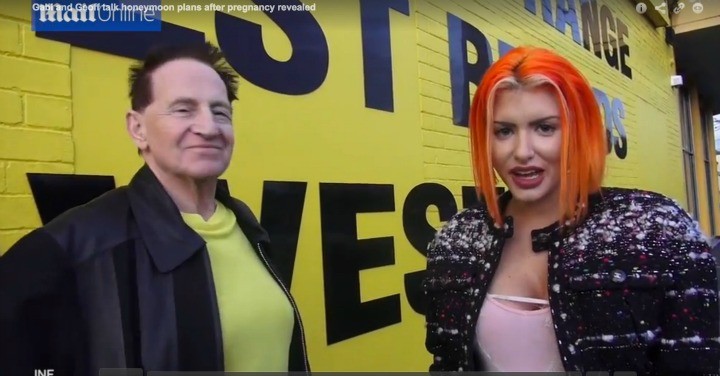 When we reported on the surprise wedding of medical entrepreneur Geoffrey Edelsten and Florida-born model Gabi Grecko, we were surprised about the hasty nature of the nuptials. And while Gabi's expiring visa may have been one reason for the shotgun wedding, it seems there was another factor that may have been on the flame-haired temptress' mind.
That's right, just three days after their wedding in Melbourne, the Edelsten's have announced they are expecting a baby.
Congrats Mr and Mrs Edelsten! http://t.co/Q0OI11VGc1

— 104.7 Canberra (@1047Canberra) June 14, 2015
Twenty-six-year-old Gabi told the Daily-Mail last night she is "definitely", going so far as to post a shot of a positive pregnancy test on Instagram.
Ad. Article continues below.
"I'm really shocked. I have been sick for weeks and I didn't know what was wrong," Gabi told the Daily Mail.
She went on to explain that they weren't trying, but also weren't not trying shunning contraceptive measures. Gabi says the baby is due in February, making her only a few weeks' pregnant.
Dad-to-be at 72, Geoffrey has a 26-year-old son, who he kept "secret" (or out of the media spotlight at least) for 20 or so years. Matthew Beard is an actor based in the UK, and is alleged to be Edelsten's son from an extra-marital affair.
The Edelsten's fast and furious wedding was in stark contrast to Geoffrey's ceremony with fitness instructor Brynne Gordon, which cost an estimated $3 million and featured a helicopter, Bentley and circus performers, and had 550 guests.
Whether Geoffrey and Gabi knew last week about their little gift we may never know. But one thing's for sure: that child is going to have some fascinating baby outfits.
Ad. Article continues below.
Tell us, how do you think becoming a dad at age 72 will change Geoffrey Edelsten?