Downton Abbey's Byfleet Manor for sale! Take a look inside...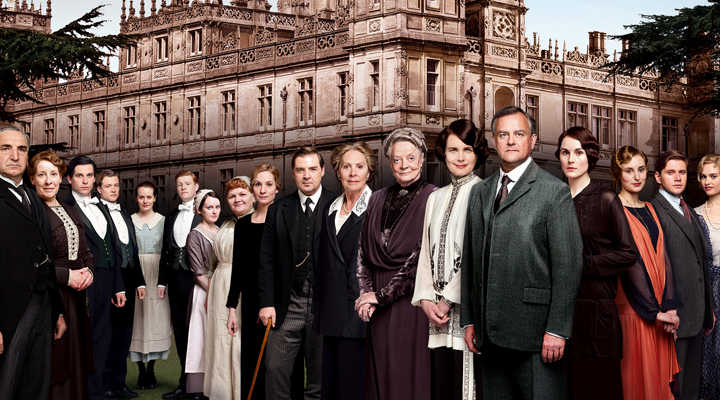 If you've ever been watching Downton Abbey and thought, "I'd love to live in that house!", now you can – if you have a spare $6.12 million on hand.
Byfleet Manor, better known as the home of the Dowager Duchess (Lady Violet Crawley) on the hit TV show, dates back to the seventh century. And as the final season of Downton Abbey is approaching, the owner of the beautiful family home has decided to sell up after five years of filming.
Julie Hutton has owned the house for 10 years and bought it at a steal: $2 million. She renovated it and began to hold events…some pretty big ones if Downton Abbey is anything to go by!
Ms Hutton told The Sunday Times: "It was only ever meant to be one series so I thought "why not". But then, as I saw what happened to Highclere as the show went on and on, I got a bit nervous. I was waiting for the coachloads of tourists to arrive".
The stunning 19-acre estate is a marvel unto itself, with royal and aristocratic heritage – it was owned by the Crown for 300 years, and Queen Elizabeth I has walked its halls.
Inside Byfleet Manor are four reception rooms, eight bedrooms, several fireplaces and Jacobean wall pillars over 6,000 sq feet, reports CNBC.
"From the Domesday Book to Downton Abbey, prospective buyers are being offered the chance to be part of a significant piece of history," Simon Ashwell of Savills, the luxury realtor, said in a statement Monday.
Maggie Smith's character's home has also starred in other British period dramas, such as 'Poirot', 'Crawford' and most recently in 'Into the Woods', starring Meryl Streep.
This piece of history is only 2o miles from London, in the country of Surrey, ideal for overseas buyers!
Ad. Article continues below.
"We're expecting interest in the sale of the Byfleet Manor estate to come from all quarters, including international interest too," said Paul Finnegan of Savills Country Department in the statement.
"In the past 12 months we've seen an increase in the flow of London-based buyers looking to move out to the country for larger homes with land and this would make the perfect forever home for a growing family". This isn't surprising considering the huge success of Downton Abbey, which reels in 12 million viewers per episode.
Buying agent Henry Pryor told the Daily Mail he "wouldn't be surprised if an American tries to buy it and take it back brick by brick to re-build it in Kentucky.
'Of course English Heritage might have a few choice words to say about this – perhaps as sharp as the Dowager Duchess herself. Nevertheless, there will be coach loads of viewers wanting to snoop and a fair few who may even be able to afford it".
Take a look at the photos below and see more here! What do you think? Would you live here if you could?