Do you grow your own veges? Michelle Bridges says you're a freak.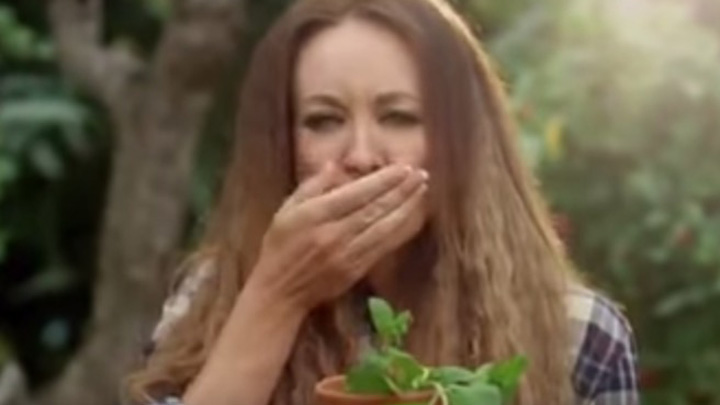 Michelle Bridges is a familiar face on our screens and even in our stores. She is a trainer on weight loss show The Biggest Loser, has a popular 12 week program and fitness range and now, a frozen meal selection at Woolworths.
This would be all well and good except for the storm in a teacup that occurred today when Bridges put a video up on her Facebook page. It was an ad for Delicious Nutritious, Michelle's new line of frozen meals, but it wasn't the small portions that had social media in a twist – it was her insinuation that those who grow their own fruit and vegetables are "freaks".
Dressed in overalls, Bridges opens the ad by saying,"Like everyone I grow my own vegetables. Isn't that right darlings?", before scoffing some soil from a pot plant.
Back in the kitchen, the personal trainer says, "It's time to get real, eating healthier doesn't mean you have to act like a freak".
Her new frozen meals range is now stocked in 950 Woolworths stores around the country, reports SMH.
Ad. Article continues below.
The video was removed after only a few hours because of the backlash.
"WTF eating like a freak = healthy. So Michelle you prefer us to eat processed sugar-laden CRAP from Woolworths. Your integrity is about to die a slow and embarrassing social media death … Michelle Bridges = money crazed freak," one commenter said.
Another said, "I wanted to post this on your ad but it seems there's been quite the backlash and it's been removed. I'll own my "freak" status, nothing makes me happier than watching my children enjoying organic home grown food, or finding the eggs our backyard chooks have laid. The small minded ignorance perpetuated by this ad is staggering, and leaves a bad taste in my mouth, much like that microwave rubbish would".
Before the ad was released, Ms Bridges told Fairfax, "The majority of the food is locally grown, we've got a couple of products from Spain but the majority of the food is from Australia".
"We live in a bubble in Sydney where fresh, organic food is easily accessible and affordable. In places like far north Queensland and Alice Springs, where I used to live, fast food is more convenient than fresh, nutritious meals".
Ad. Article continues below.
In defence of the ad, Michelle took to Facebook this afternoon to clear the air. She said:
Hi Everyone, our intention with our ads for Delicious Nutritious were to poke fun at myself and what many see as "my (completely fictional) perfect life".

There was never any intention to offend and for this we sincerely apologize.

As a fresh food grower myself and advocate for home cooking I have listened to your feedback and removed the posts which caused upset.
As someone who works with many Australians, I understand that it's not always easy to cook from scratch every single meal. This is how my concept of Delicious Nutritious was born, so the wheels don't fall off your healthy eating plan.
Commenters on this post were a bit kinder, with the top commenter remarking, "I thought [the ad was] hilarious and anyone who took offense [sic] needs to have a good hard look at themselves … They were clearly tongue in cheek and having a bit of fun, good on you for showing the world you know how to have a laugh (even at your own expense) … it's about time there was a range of frozen meals that are made with real ingredients, people do use them and it's great that they now have an option that is not packed with chemicals". 
Take a look at the ad and tell us your thoughts… do you think it's just tongue-in-cheek or is it offensive?