David Hasselhoff reveals his secret to his passionate relationship, and it doesn't involve Viagra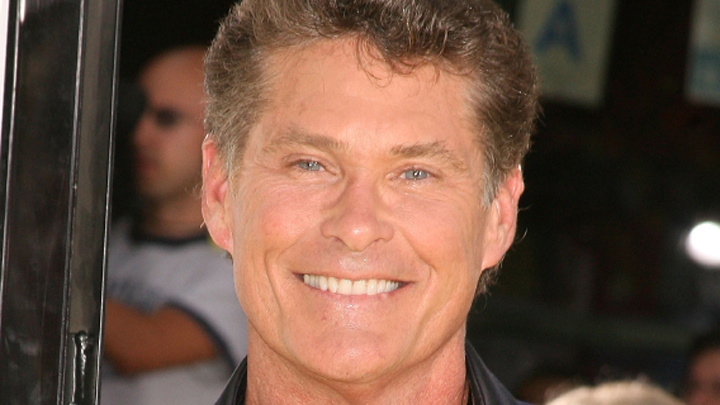 David Hasselhoff has been hard to get (h)off our screens in the last few decades, but that doesn't mean he's a shrinking violet, or shrinking anything for that matter. The Hoff has just been spotted making out with his much younger girlfriend on the red carpet, only hours before revealing he doesn't need Viagra to please his lady.
About to turn 63, the Hoff is still turning heads but for different reasons than in his Baywatch days. The actor attended a store opening in London with his 33-year-old girlfriend Hayley Roberts. They kissed for the cameras and enjoyed the attention.
David is set to star in a spoof show about his life, Hoff The Record. The synopsis reads: "30 years after rising to fame with Knight Rider and Baywatch the series follows The Hoff as he moves to the UK to get his career back on track and make sense of his increasingly surreal life". It is set to be riveting viewing.
In other Hoff news, in a wide-ranging interview with UK's Mirror, David outlined his love life, personal life, and battle with booze.
He says he's fitter and healthier (in all departments) than ever before.
Ad. Article continues below.
"Do I take Viagra? No, I really don't need to", he said, before joking that he could show the female interviewer. Stay classy, Dave!
So how does he maintain such stamina as a 62-year-old? "I take a lot of amino acids and the funny thing about aminos is that if you take the right amount it gets your blood flowing – the same as Viagra.
"But that's one problem I don't have – if anything, I am trying to find an anti-Viagra pill because my girlfriend keeps saying, 'Why is it that you want it every day?'
"And I'm like, 'Because I find it takes the edge off things'", he said, without a shred of sarcasm.
David is in England promoting the world premiere Last Night A DJ Saved My Life, about drug culture on Ibiza in the 90s – David plays an ageing lothario nightclub owner with a Class-A past.
Ad. Article continues below.
"Well, once I had some girls who wanted me to take Ecstasy with them in France and go party," he recalls. "But I was in a different crowd then. I won't tell you exactly what drugs I did because it'll go everywhere, but it was similar to that. It just lasted a lot longer".
He wears his Dad's wedding ring to keep him on the straight and narrow after he had a much-publicised battle with alcohol in the early 2000s.
"It is my responsibility to do the best I can and to take it one day at a time. But alcohol can become deadly", he warned.
Here's some pics of David with his partner, looking happy and in love. What do you reckon about his out-there life so far?