Dame Quentin Bryce handles new role artfully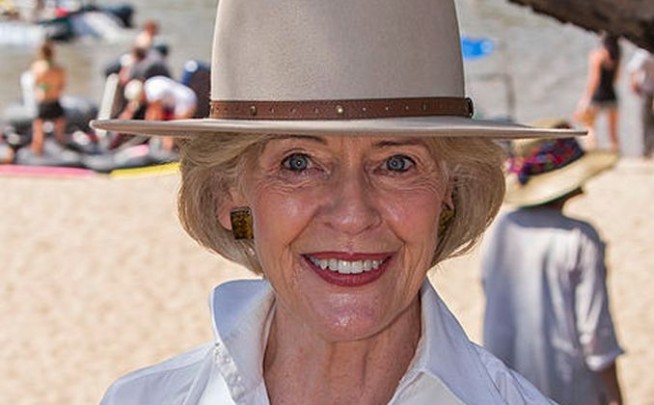 She's had roles as a sex discrimination commissioner, director of the Human Rights and Equal Opportunity Commission, headed up a special task force on domestic violence and recently interviewed Carla Zampatti, but Dame Quentin Bryce, former Governor-General of Australia says she felt out of her depth when it came to her new task.
Dame Bryce had been asked to curate a major exhibition of works by one of Australia's most eminent painters, 79-year-old William Robinson, at Brisbane's Old Government House.
"I knew it would be a challenge but I've enjoyed [the experience] so much, I'm glad I took it on because I was feeling so self-conscious about not being an artist or a curator but a person who just admires and respects and has a deep affection for art," Dame Bryce told Fairfax.
Mr Robinson is celebrated not only for the "extraordinarily complex" body of work he has produced over four decades, but also for his role as a teacher. The exhibition, which is in place until July next year, is a titled Inspiration as a nod to that legacy.
Dame Bryce recalls the moment she first saw one of Mr Robinson's paintings: "In 2008, while I was serving as governor-general, I had the good fortune to choose some paintings from the National Gallery of Australia's collection for the official residence at Yarralumla. I looked and looked, and then I saw it – blue upon blue upon blue shadow, light and darkness – Springbrook with Lifting Fog. Revelatory, highly theatrical – playful too. The work spills over with depictions of the ancient Antarctic beeches, a species more than 60 million years old, that Bill and his wife Shirley looked up to every morning as they walked in Springbrook rainforest.
Ad. Article continues below.
"I couldn't believe it when Ron Radford, then the director of the National Gallery, said I could borrow the work. The space on my wall in the Chancery was perfect for it. The view through the windows was out to mountains and lake, willows, poplars and maples; I had sulphur crested cockatoos peeking in, squawking and flapping on my balcony. I cannot describe the delicious pleasure, happiness, contentment and wonder that this painting gave to me. It took me to the centre of myself, giving me a sense of place, of belonging. In meetings, I would sit in a chair where I could look into the lifting fog. It taught me how much a work of great beauty demands and how love grows as you search for its secrets."
The former Governor-General writes in the catalogue essay for Inspirations: William Robinson about how she struggled to find a "touchstone" from which to write about the famous artist. "What could I contribute?" she mused.
"During my Canberra years, about 55,000 grade six students came to Yarralumla. They were from every part of our country. It was a thrill to show them the magnificent paintings on the walls; great art, famous painters, right up close. I made a point of acknowledging their teachers and the powerful contributions that they make to our country. I feel very deeply about this. We often unwisely underrate the importance and influence of our schoolteachers."
This memory triggered her to reach out to Mr Robinson's former students who are now practising artists. "I was struck by the delight that his former students took in sharing stories about their teacher, how much they learnt from him; in particular, about colour but also the discipline, the rigour, the practice required. The word that came up again and again was 'inspiration'."
Ad. Article continues below.
Unsurprisingly, Dame Bryce has done an exceptional job of curating her first art exhibition, and continues to be an inspiration herself.
Are you proud of Australia's first female Governor-General and her contribution to Australia?