Crocodile Rockin'! Check out Bindi's moves on her DWTS debut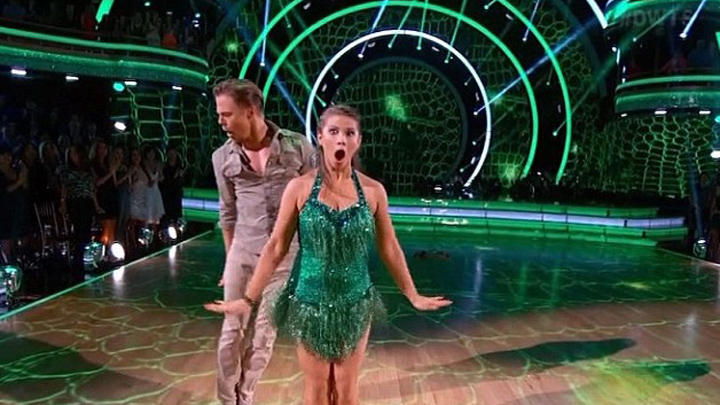 It's hard to believe Bindi Irwin is 17 now – many of us remember little Bindi as that vivacious little girl with the big personality to match her Dad's. She's still that girl, but many overnight have remarked at just how fantastic she was on Dancing With The Stars… just another talent to add to her belt!
Now based in Los Angeles with her mum Terri and brother Bob, Bindi signed up to dance with Derek Hough on the US version of Dancing With The Stars, exciting audiences around the world.
And her debut on the popular show did not disappoint, with judges calling her the "wonder from Down Under" after she absolutely nailed her performance of Elton John's 'Crocodile Rock', a great hint at her ties to animals and her Dad.
Bindi entered the stage with her dancing partner in her familiar khakis, but it wasn't long before they were ripped off to reveal a shimmery green dress as she rocked around the dance floor.
Viewers took to social media to comment on Bindi's fun moves and great facial expressions, with the general consensus agreeing that she could win the whole show.
Ad. Article continues below.
"I think that the real reason I'm doing this is to make him proud, and everyone back at home in Australia proud," she told the judges after her fast-paced jive.
Not surprisingly, our Bindi won the night with 8 out of 10 from every judge.
Her dancing partner Hough wrote on Instagram later that night that, "So proud of this incredible angel! She continuously reminds me of the magic in this life with her infectious genuine powerful energy. Love you".
Looking at her performance, it's hard to believe Bindi had never worn heels before!
"They said, 'We're going to put you in these heels,' and I don't think they realised that I had never worn heels before so I stood up and instantly fell down," Irwin told Entertainment Tonight.
Take a look at her awesome routine below and tell us your thoughts. We think her Dad would shed a few tears with pride: