Carrie Fischer breaks silence on Star Wars scandal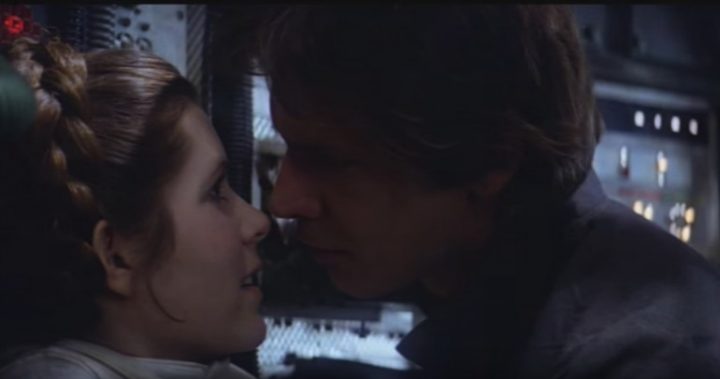 There's been speculation and rumours surrounding Carrie Fischer and her Star Wars co-star Harrison Ford for decades.
Ever since their romantic portrayal of Princess Leia and Han Solo in Star Wars: Episode IV in 1977, there have long been rumours the pair had an affair.
Now Fischer has addressed those rumours in her new book The Princess Diarist, described as "explosive" by critics.
Excerpts from the book, published in the Daily Mail, reveal Fischer and Ford had a three month affair during the filming of the Star Wars film.
It turns out he was married and 14 years her senior at the time.
Ad. Article continues below.
She writes that the pair spent their first night together after he drove her home "wine sodden" after a party.
"I looked over at Harrison. A hero's face — a few strands of hair fell over his noble, slightly furrowed brow," she writes about the morning after.
"How could you ask such a shining specimen of a man to be satisfied with the likes of me?
"I was so inexperienced, but I trusted something about him. He was kind."
Fischer describes the affair in the book as "a very long one night stand".
Ad. Article continues below.
"He didn't abuse the situation — he wouldn't have hurt me, especially once he understood that I was inexperienced," she writes.
"It seemed to take its natural course."
So, what does Ford think?
Well, Fischer actually sent him a draft of the book.
Apparently, he jokingly responded with the word "lawyer".
Ad. Article continues below.
"Harrison's very private, but I think I waited an appropriate amount of time. How much longer could I wait?" Fischer writes.
"I didn't say anything to anybody for years but it's not like anyone's deeply affected by it any more.
"As far as I know, the only time he cheated on any one of his three wives was with me. And maybe he didn't think that counted all that much because of how short I am."
What do you think about this? Is it right for Carrie Fischer to be making this public after all these years?