Carrie Bickmore wins the Gold Logie!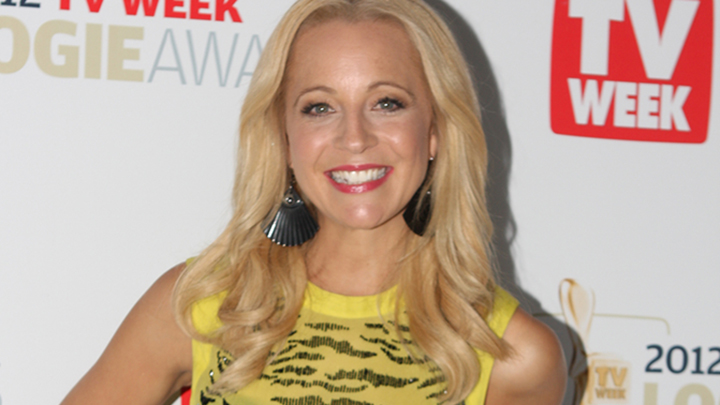 She'd been nominated four times but finally, Carrie Bickmore won the Gold Logie.
The Project host won the biggest award on Australian television last night at the star-studded ceremony in Melbourne. Carrie won hearts when, in her stunning dress, she put on a beanie to raise awareness for brain cancer – the insidious disease that took her husband Greg Lange in 2010.
"Everyone thinks it is this rare form of cancer. It is not. It kills more people under 40, and it is a lot of you in this room, more people under 40 than any other cancer.
"It kills more kids than any other disease. In 2010, my husband, Greg, was one of the unlucky ones.
"Over 10 years, I watched him suffer multiple seizures a day, lose feeling down one side of his body, have his little three-year-old have to push him around in a wheelchair because he couldn't walk anymore.
Ad. Article continues below.
"He was an incredibly brave man. He was a great dad. He was a great husband. He was a great brother and he was a great friend.
"Throughout his cancer journey, he used to wear a lot of hats and he used to wear a lot of beanies and that was because he felt embarrassed about his scars and his head.
"I used to say to him don't be embarrassed, scars are really, really cool and beanies are also really cool.
"I want to ask anybody that's on TV in Australia tomorrow to whack on a beanie I want to get the nation talking about brain cancer – it receives next to no funding which is ludicrous. Because without funding more people are going to die and as I just said eight out of 10 people that are diagnosed will die from this disease. So anyone – Sam, Kochie, Karl, Lisa – whoever's on TV tomorrow whack on a beanie if you're going to school tomorrow, kids, put a beanie on. If you're going to work put a beanie on. Take a pic of yourself with the hashtag 'Beanies For Brain Cancer'.
"And I know that people watch TV and they think that we're just faces who get to spend hours in hair and makeup and have these really awesome jobs but we also have our own stories and our own challenges. And for me, work has been an incredible escape, an incredible outlet for me over many, many, many years and I want to dedicate this award tonight to anyone that's going through a really shit time right now. Anyone that's supporting someone through a really tough time right now. Please believe that there will be a brighter day for you. Please believe that.
Ad. Article continues below.
"You'll see me on the dancefloor!"
Carrie also walked away with a Silver Logie for most popular presenter.
Here are the other winners of our big night of nights:
Gold Logie for most popular personality: Carrie Bickmore
Most outstanding drama: Wentworth – SoHo/Foxtel
Ad. Article continues below.
Most oustanding actor: Luke Arnold
Most outstanding actress: Danielle Cormack
Graham Kennedy Award for most outstanding newcomer: Miranda Tapsell
Most popular actor: Stephen Peacocke
Most popular reality program: The Block
Ad. Article continues below.
Most popular entertainment program: Hamish and Andy's Gap Year South America
Most popular drama: Home and Away
Most outstanding comedy: Utopia
Most popular actress: Asher Keddie
Most popular presenter: Carrie Bickmore
Ad. Article continues below.
Most outstanding entertainment program: The Voice
Most outstanding children's program: Nowhere Boys
Most popular lifestyle program: The Living Room
Most popular sports program: The Footy Show
Most outstanding new talent: Miranda Tapsell
Ad. Article continues below.
Most outstanding news coverage: Lindt Cafe siege – Seven News
Most outstanding miniseries or telemovie: Devil's Playground – Foxtel/Showcase
Most outstanding public affairs report: Banking Bad – Four Corners/ABC
Most outstanding factual program: First Contact – SBS One
Most outstanding sports coverage: 2014 FIFA World Cup – SBS One
Ad. Article continues below.
Tell us, did you watch the Logies last night? What did you think of Carrie's speak?