Cancer caused a "bump in the road" says Michael Douglas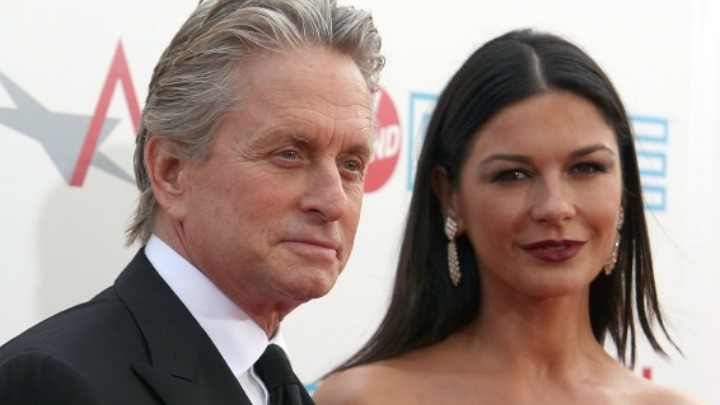 After being misdiagnosed three times, Michael Douglas's very public fight with tongue cancer took a toll not just on his life, but also on his relationship with wife Catherine Zeta-Jones.
Douglas was pronounced cancer-free in 2011 but the stress of the disease and treatment caused the couple to split in 2013, the star of the Behind the Candelabra told The Daily Mail.
In a comprehensive interview, Douglas said his cancer treatment was "like the seven circles of hell" but he launched himself straight into filming the Liberace biopic. "But then both [co-star] Matt [Damon] and [director] Steven [Soderbergh] said, you've got to put this off for a year," Douglas says.
"I was Stage 4 and I'd seen a lot of other people that I know go," he adds. "It was pretty bad… but it got better. Then it even got good".
For Douglas' wife of 15 years, who recently revealed she suffers from bipolar II disorder, it was a terrible few years. "I'll be quite frank, I was a mess,' she said last year.
Ad. Article continues below.
But in recent times, the pair has presented as a united couple, appearing at an oncology conference last year. Zeta-Jones told the audience she was happy to be standing there with her husband "I am quite literally happy to be standing here with my husband," she emphasised.
Douglas was awarded the Genesis Prize this month and his family was present. The actor choked up as he thanked his wife and family for their love and support.
He says they are now stronger than ever, despite media reports of a rift in their relationship.
'We had a little bump in the road,' he said. "The problem in this business is that everything is so public. I love Catherine as much, more than I ever have. And hopefully the feeling's mutual".
Ad. Article continues below.
The pair has just celebrated their 15th wedding anniversary and dote on their children Dylan, 14, and Carys, 12.
Douglas says he has been to Catherine's Welsh homeland a number of times. "The Gower Peninsula is one of the most beautiful places I've seen… It's a great community and I love playing golf over there. I can't do the accent, my wife laughs me off the planet when I try."
Cancer can have an enormous impact on relationships, do you think it has brought Michael Douglas and Catherine Zeta-Jones closer together?