Burt Bacharach has a message for you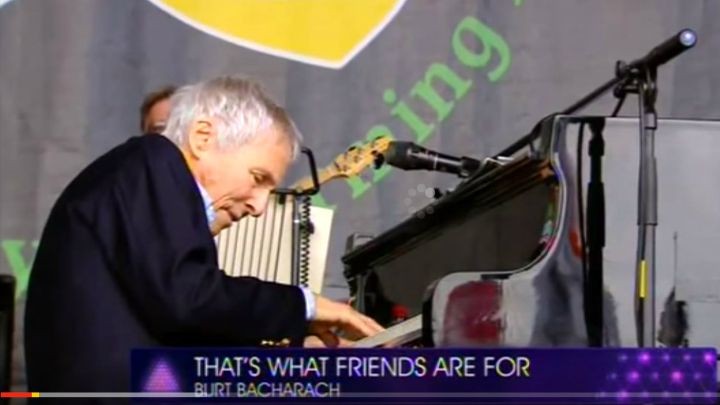 This video popped up in our newsfeed this morning and we just had to share. How incredible is Burt Bacharach? Just a few years shy of 90 and he's performing in front of a crowd of tens of thousands.
The gig was, of course, this year's Glastonbury music festival, and Bacharach has the afternoon slot on the Pyramid stage.  Guardian reviewer sets the scene: "the sun is blazing, the picnic carpets are covered in lazy-limbed families who've plonked themselves down for the rest of the day, bathing in the romantic, rose-tinted glow of the easy-listening king."
He doesn't sing much anymore – well not so anyone can hear him, as you'll see, he can't resist singing along to his infectiously good tracks – using a troupe of singers to fill in that part.
But he can still give a fine show from the seat of the piano, and his playing is superb.
This beautiful son, which was originally recorded for the 1982 film Night Shift, is a great reminder as we head into the weekend to catch up with friends.
Ad. Article continues below.
Do you remember Rod Stewart's cover? Or did you prefer the Dionne Warwick version, with Gladys Knight and Elton John.
Either way, you'll love this live version of Burt Bacharach, at 87, playing That's what friends are for.
Be sure to watch to the end to see who he gives a kiss to, it's a lovely surprise!
What are your memories of this song? Which other Burt Bacharach songs would you like to hear live?