You've never met a detective like Cormoran Strike!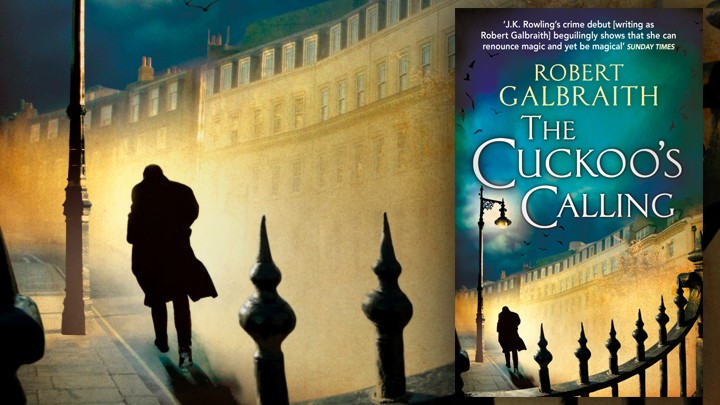 Did she jump or was she pushed? That is a question frequently asked of a leader stepping down suddenly, especially if their potential demise has been subject to conjecture. In this instance, it relates to the death of a young woman who falls three floors to her death in a snowy London street.
The Cuckoo's Calling, by Robert Galbraith is a good 'first effort' crime yarn, well created and well written, although I do have a couple of reservations which I'll come to shortly.
The death of beautiful supermodel Lula Landry has been investigated by police; their finding? Suicide. London lawyer, John Bristow, approaches penurious private eye, Cormoran Strike, with a substantial advance and a double-payment offer if he will begin an investigation into Lula's death. Bristow, Lula's adoptive brother, is less than happy with the police findings.
We are taken through a world much of which is unfamiliar to the majority of us. The characters are all larger than life and Galbraith ensures we know their strengths and weaknesses, their likes and their hates, to the nth degree.
The story starts with the lovely, newly engaged, Robin Ellacott entering Strike's office as a temporary secretary. Strike, ex-army and fitted with a lower leg prosthesis after being blown up in Afghanistan, has only one client, a huge debt, and a nutter threatening to slice him open (for proving the nutter's wife was not, in fact, having it off with another man!), so is happy to accept Bristow's offer.
Ad. Article continues below.
As the reader would expect in a thriller, there are many characters provided, among whom may be a murderer. Lula owned and lived in an expensive apartment with only one residence on each of its three floors. Hers was at the top, the one on the second level vacant (but prepared for a short-term stay by a well-known rapper) and the one at the bottom owned by Mr and Mrs Bestigui. Much of the police findings stemmed from Mrs Bestigui's evidence, but Strike has early doubts about its veracity.
We meet Derrick Wilson, security guard at the residence; Lula's sometime boyfriend, Evan, a young man with his own band and a successful vocal career, and probably a junkie; the rap star Deeby Macc; wealthy fashion designer Guy Somé for whom Lula models and who, although gay, apparently loves her; Ciara Porter, a fellow model; Kieran Kolovas-Jones, driver to the rich and famous; and many others. And then there is Rochelle.
Rochelle is from the wrong side of the tracks, as it were. She seems a strange addition to the world of a Lula Landry. Why would Lula take her under her wing and why take her to her favourite boutique? How come her pink Nokia seems so important and, apart from anything else, how can she afford to walk around in a faux-fur pink coat worth £1500?
We meet Lula's highly dysfunctional family. John Bristow and Lula are the adopted children of the late Sir Alec and the terminally ill Lady Yvette Bristow. Lula alliteratively adopts the name Landry, Lady Yvette's maiden name and that of her Uncle Tony. A third adopted sibling, the best friend of the young Cormoran Strike, died mysteriously at age ten.
On to a couple of reservations, I mentioned in the second par. I found the story a good overall four-star work but a tad too long and although I'm no prude, I found the amount of verbal fornication over the top.
Ad. Article continues below.
All the people and the many threads draw together in a well-drafted thriller, one that is to be the first of perhaps many, written under the pseudonym Robert Galbraith, by J.K. Rowling of Harry Potter fame. I think the big fellow, Cormoran Strike – he's 6'4" – has a future as solid as his frame.
The Cuckoo's Calling, by Robert Galbraith, is available to purchase at Dymocks