Would you take a train trip with this man?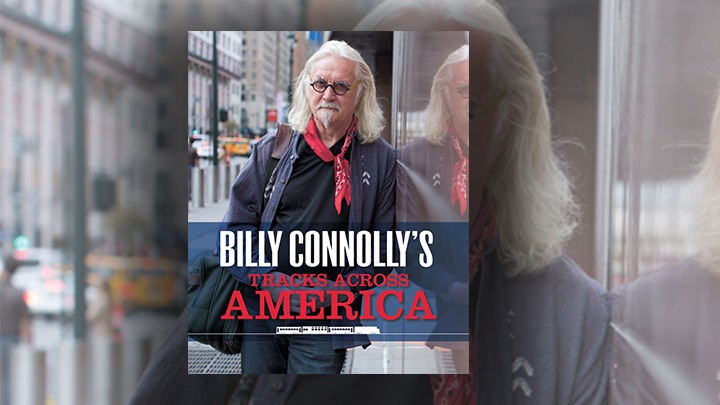 Calling all fans of Billy Connelly – this time, he is travelling around America by train.
Billy Connelly's Tracks across America and stops to chat with the locals, delighting in recounting some wonderful stories of the places and people he visited along the way. Billy is a fan of train travel and observes that catching a train is more of an event in America than merely a means of travel. He began his journey at Chicago Union Station, with the station more closely resembling a palace than a boarding platform. On board the Empire Builder he had the choice of whether to occupy a seat with a table in the middle or one which faced the window to look out on the scenery.
His train journey took him west from Chicago to Seattle, then south to Los Angeles.  He continued on a loop back across the continent to end in New York. While in Seattle, Billy did some of the tourist things such as visit the aquarium and the space needle, but he also tells the story of visiting a tent city for homeless people in Seattle.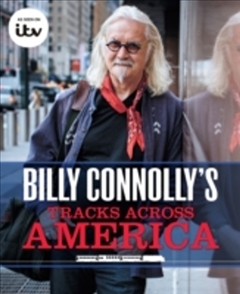 He related that the one that he visited was a cross between a camp site and a refugee centre, situated in the grounds of a church. Everyone living there has to go on the chores roster, and they don't judge people for drinking or using drugs, but they must go off site to do so. Living on the site keeps people safe and gives them a warm dry place to sleep, even if it is under canvas.
From Seattle, Billy boarded the Sunset Limited and rode the oldest train route in America all the way to El Paso in Texas. Reaching Portland, Billy investigated skid row and the network of tunnels that run underneath the streets near the waterfront. These underground catacombs are known as the Shanghai Tunnels, and men were snatched from the street above by thugs who sold them into slavery as sailors on the multitude of ships operating out of the port. Shanghaiing could earn the villain $50 per head, a nice sum of money back in the day. He relates the story of a famous Shanghai snatcher who sold twenty corpses to an unsuspecting sea captain after he found them near death from mistakenly drinking embalming fluid. The ship captain was quite accustomed to accepting drunk and drugged men from snatchers and did not suspect that his new recruits were not going to wake up until well after he had already set sail.
Ad. Article continues below.
Billy relates that Birmingham in Alabama was the most segregated city in the States during the fifties and sixties. There were so many attacks on coloured communities that it became known as 'Bombingham'. It was the site of a peaceful protest in May 1963, when hundreds of coloured children marched to protest against segregation. Billy met with four of the original protestors, who organised the demonstration among themselves, knowing that their parents were unable to take that kind of action for fear of recrimination. The children were ordered back by armed police officers complete with the dog squad, who arrested them and held them in cramped conditions until after a court appearance. The irony was that they were held inside the state fairground because of the volume of arrests. The fairground was a place where black people were not allowed to go, and the children began cheering when the buses carrying them turned into the grounds. The protesters were offered pardons years later, but some refused to accept them, carrying their criminal conviction as a badge of honour.
This book is packed with such stories and plenty of full page coloured photographs, mainly of the wonderful characters he met along the way. I am a Billy Connelly fan, but I don't think you have to be one to enjoy this book. It's rather special in the hardcover edition, and would make a lovely gift or a treat for yourself.
Billy Connelly's Tracks across America, by Billy Connelly, published by Hachette Australia is available from Dymocks.
Join Books at 60 on Facebook, or sign up for our weekly newsletter below for more great reading recommendations!