What are you reading? Starts at 60 Book Club members share their current favourites...
Our first newsletter asked Book Club members to share their recommendations and reviews of books. It is a real pleasure to share these community reviews and recommendations with you. Thanks, Lara, Maggie-Anne and Kate.
CLOSE YOUR EYES, Michael Robotham – Lara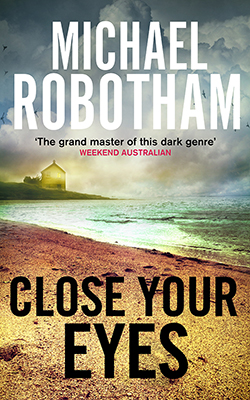 Two bodies, mother and daughter, are discovered murdered in a remote farmhouse, the mother with multiple stab wounds and the daughter left lying peacefully, most likely suffocated with a pillow.
Psychologist Joe O'Louglin is reluctantly drawn into the investigation by Detective Ronnie Cray, who through their past association in resolving complex cases, believes O'Loughlin can again be of assistance in solving these gruesome murders.
From the killer's twisted perspective, we gain insight into a very disturbed mind indeed and the plot gradually becomes more complex as Joe O'Loughlin and Detective Cray battle to discover the motivation which is driving this killer to continue abducting young women at will. They are convinced that one particular woman is still alive as her body hasn't been found and they know they are racing against time to find her before it is too late.
Ad. Article continues below.
As the case becomes more involved, and Joe suspects there is a link between murders committed years ago and these abductions, the search becomes even more desperate and the pressure to bring the investigation to a successful conclusion even more paramount.
This is crime writing at its best, fast paced with a well-developed plot, moments of surprising reflections and several suspicious characters who could be the culprit. I did suspect a particular character and turned out to be correct in my assumptions about three-quarters the way through the book.
A very interesting and enjoyable read.
Already Dead, by Jaye Ford   – Maggie-Anne
This is Jaye's 4th thriller and the best in my eyes.
Ad. Article continues below.
From the first page the storyline of Miranda Jack, journalist and widow of 12 months by a hit and run driver killing her husband in mysterious circumstances, had me hooked well and truly. Each page I turned invited me in to yet another facet of this suspenseful thriller.
"On the verge of having a sea-change and moving up the coast of NSW, with her young daughter, she was waiting at the traffic lights on the freeway when an armed man (Brendan) jumped in her car and forced her "to drive and keep driving" at a great speed as he wants to see his wife and child before "those people" chasing him could kill him. His name he says is "Already Dead"!
A shocking end to this forced drive makes Miranda want to investigate Brendan's claims and this creates a very dangerous situation in her life. This book is SO good that I put off reading the end until I could guarantee no interruptions .
The Unexpected Inheritance of Inspector Chopra, by Vaseem Khan  –  Kate
This is a good crime story dealing as it does with corruption in high circles. The point of difference is that the Inspector inherits a baby elephant and this story adds humour to an otherwise dark story. A good quick read.
These books are available to purchase at Dymocks, click on the title to link to the Dymocks site.