Troy Cassar-Daley - My Country, My Music, My Story
Troy Cassar-Daley is a much loved Australian country music star who hails from Grafton in New South Wales. He learned to play the guitar as a schoolboy and started out singing in pubs around the Northern Rivers.
Things I Carry Around is Troy's story of those early days through to more recent times and makes great reading not just for his dedicated fans, but for everyone who loves a story about making it through tough times.
Troy is the son of an Aboriginal mother and Maltese father. Their marriage broke up when he was young, and he was raised mainly with his Goori family in the Grafton area. Troy's mother worked in the dining car on the trains to support them, but there were always plenty of extended family to spend time with. Troy's father lived in Sydney, and he visited during the school holidays, which kept him in touch with his Maltese heritage.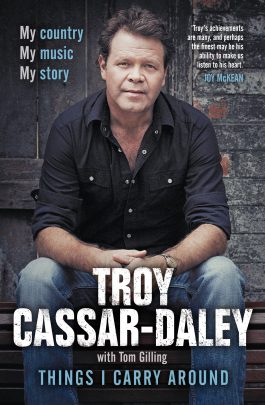 As a boy, Troy's favourite singer was Merle Haggard. The first song he sang on stage was one of Merle's numbers, 'Sing Me Back Home'.  Later, when he became a professional performer on his first big tour supporting Gina Jefferies, singing one of Merle's songs became a way to settle his nerves.
Troy met his future wife, Laurel Edwards, at the Gympie Muster. Laurel worked as a radio announcer on the breakfast shift at 4KQ, but was fond of country music and could carry a tune herself. Their paths had crossed before while taking part in competitions, and both had been finalists at talent quests in Tamworth. Troy gives Laurel the credit for supporting him during the tough times of his career, and being a wonderful wife and mother to his kids.
Ad. Article continues below.
The fact that Troy has carved himself a career here in Australia must have been inspirational for other artists. He spent long months on the road making himself known back in the early days. He toured with Brian Young, who organised a nine-month tour every year covering Queensland, the Northern Territory, Western Australia and South Australia. He took his troupe to remote communities and made the young fellas observe traditional law while they were there. It was educational for Troy, who had to go without a cooling alcoholic beverage when they were playing in a dry community.
Troy admits to liking a drink, and tells lots of stories about antics that he got up to when he was playing on the pub circuit and out on tour. He liked mixing with the locals, and at one big event in the Kimberleys, he stayed in the dongas with the jackeroos instead of at the house as he had been invited to do. Slim Dusty was on the same gig, and staying in the big house. The next day he had his first real conversation with Slim and discovered that he was born and bred in Kempsey, not far down the road from Grafton.
I'm sure that Troy's fans will be pleased to know that there is an album of the same name as this book available in stores now. The book is for more than Troy's fans, it's for everyone who enjoys a story about youthful antics, true love, and for all who want to rub shoulders with the country greats for a while.
Things I Carry Around, Troy Cassar-Daley with Tom Gilling, published by Hachette Australia is available from Dymocks.


Join Books at 60 on Facebook, or sign up for our weekly newsletter below for more great reading recommendations!