'Tis the season for desire...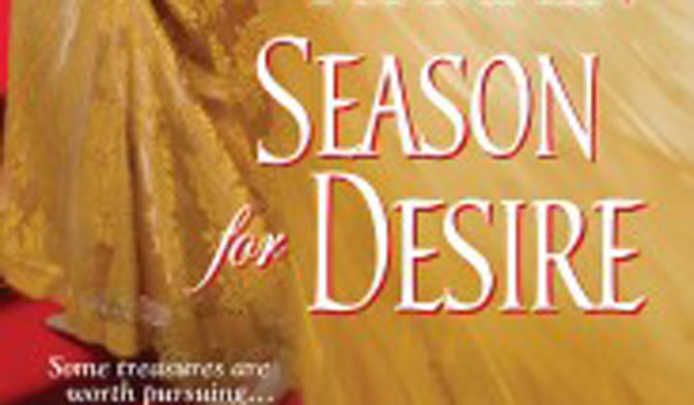 Season For Desire by Theresa Romain
Available for $11.25 via Booktopia
Synopsis: "Like her four sisters, Lady Audrina Bradleigh is expected to marry a duke, lead fashion, and behave with propriety. Consequently, Audrina pursues mischief with gusto, attending scandalous parties and indulging in illicit affairs. But when an erstwhile lover threatens to ruin her reputation, Audrina has no choice but to find a respectable husband at once.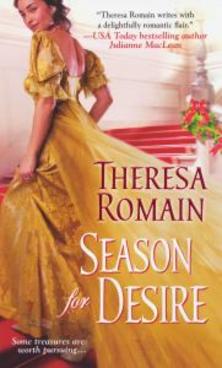 Who would guess that her search would lead her to Giles Rutherford, a blunt-spoken American on a treasure hunt of his own? When a Christmas snowstorm strands the pair at a country inn, more secrets are traded than gifts – along with kisses that require no mistletoe – and Audrina discovers even proper gentlemen have their wicked side."
Ad. Article continues below.
This is a really unique story. Audrina finds herself pulled into a rather esoteric family and their quest to find a hidden fortune. Giles has travelled with his father back to his mother's homeland to find the family jewels his father is convinced she hid before being disowned by her family. The elder Rutherford is consumed with the cryptic clues his wife told him on her deathbed. Giles has his hands full with his father who is convinced that finding the treasure will enable him to open a jewellery store. Life in the Rutherford family hasn't been great since their mother passed away, Giles has had to put his dreams, and life on hold to take on the role his father can't seem to handle.
Giles is just a nothing American who can't offer Audrina anything. Audrina is not looking for the titled life but has gotten herself into a pickle of a scandal. Her father has banned her from the city to keep the scandal from ruining her sister's lucrative wedding.
They do make an odd little group but that is only the beginning. They run into or pick up more "characters" in their drive to find each clue that keep turning up.
The journey is more involving than just finding the clues and moving forward. Friendships are made. Attitudes are changed. Self-esteem is brought out and love grows in the most unexpected places.
Very enjoyable and well-written story. Lots of description of areas and the times – just an all around enjoyable read without sex, drugs, or rock and roll. Easy book to get stuck into and finish before you know it.
Ad. Article continues below.
Give it a go, you will enjoy.
Available for $11.25 via Booktopia
Do you enjoy novels of this type? Would you read this book? Tell us below.