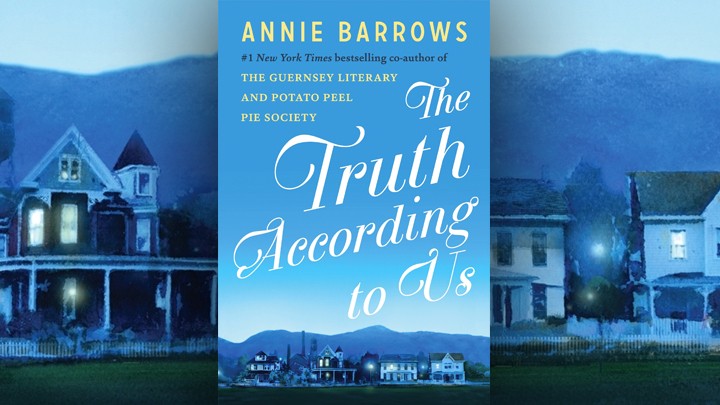 What is truth? The philosophical question of the ages, for a start. In The Truth According to Us, Annie Burrows explores what the truth of the Romney family of Macedonia, West Virginia might be.
The year is 1938 and America is in the Depression Years. One of the little-known programs of Roosevelt's New Deal was the Federal Writers' Project to record towns' histories and to write state guides. This much is fact.
Layla Beck finds herself on relief after her father, a US senator, enraged that she has knocked back a proposal of marriage from a wealthy suitor, has ordered her to earn her own money. Layla is used to a life of pampering, but, after the necessary strings are pulled, finds herself a boarder with the genteel Romney family to write the history of their small town, Macedonia.
Macedonia is struggling. The main employer, the cotton mill, is not making money and further industrial strife looms. The apple orchards and farms surrounding are struggling.
The Romney family, once big names in town, is struggling, too. The family of siblings is an interesting mix. Jottie runs the family, including bringing up her two nieces, Willa and Bird. Their handsome father Felix mysteriously comes and goes. The girls adore him, Jottie mistrusts him. The twins, Minerva and Mae, married, spend a lot of time at the house. Emmet, the youngest, teaches at the high school.
Ad. Article continues below.
This is the mix into which Layla steps. Is she responsible for what happens?
The book varies in its narrator, sometimes in the third person and sometimes through the eyes and voice of Willa. Early in the book she says to her aunt, "I wish we were like everyone else. I get real tired of lying." This is the intrigue for the reader: what is the real story of the family?
A shadowy presence throughout the book is Vause Hamilton who died in a fire at the mill as a young man. Sol McCubbin also is on the edge of the family's life.
The book has a wry humour throughout. Willa's eyes are sharp and her voice strong.
Descriptions are lyrical and characters are surely drawn. The times ring true.
Ad. Article continues below.
I thank Dymocks for the review copy. Annie Burrows, incidentally, is one of the co-authors of The Guernsey Literary and Potato Peel Pie Society.
This is a long book, one to be savoured over a period of time. I can thoroughly recommend it. It is no wonder it was on the New York Times Best Seller list.
The Truth According to Us, by Annie Barrows, available to purchase from Dymocks