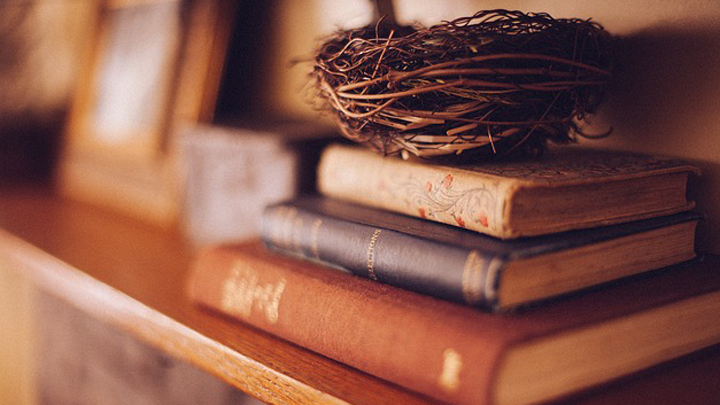 The "What" I hear you ask? Did Karen mean to say The Stella Prize?
Well no, I do mean The Stella Count, so let me explain. The Stella Prize is the relatively new, but highly regarded, prize for Australian women authors and entry is encouraged from both fiction and non-fiction authors. The 2014 Stella was awarded to Clare Wright for The Forgotten Rebels of Eureka.
The Stella Count on the other hand refers to the annual statistics collected by the Stella Prize, in conjunction with Books + Publishing showing "the ratio of books by men and women reviewed in major Australian newspapers and literary review publications".
In what is now the third year of the count, women writers will not be surprised to find that "The majority of book reviews in Australian publications are still of books by male writers". It is worth noting that this statement does not apply only in Australia, the findings are confirmed by VIDA, which collects similar statists in America. The following graph is quite revealing in what it shows on a year-by-year basis as to the percentage of women writers reviewed in various publications.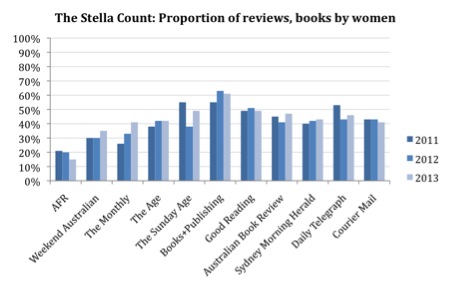 Ad. Article continues below.
There have been distinct gains; I find it very worrying that the Australian Financial Review's percentages decrease each year. The other major national publication, the Weekend Australian shows an improvement, but statistically only 33% of its reviews are of books by women!
"Even when a publication reviewed an equal number of books by both genders, books by male writers tended to be given larger reviews and these were generally positioned more prominently in newspapers' review sections. Devoting more space and more prominence to the work of make authors created a gender imbalance in critical coverage even when the quantity of reviews was equally matched. This disparity was particularly conspicuous in the treatment of debut or relatively unknown writers. Emerging and first-time female authors were less likely to receive lengthy profiles or lead features than their male counterparts".
I can only shake my head in wonder at such entrenched gender bias. Surely, in 2014 we read good books because they are just that: GOOD BOOKS. It is interesting to speculate what would happen if we only gave reviewers a book, without revealing the gender of the writer. Is there an entrenched gender bias, or are books by men just better written and therefore more deserving of reviews and prominent positioning?
I would love to know your views.
Quotations in this blog are taken from the full Stella Count, found here. It delves deeply behind the raw figures and gives a number of fascinating insights to reviewers.
Ad. Article continues below.
*********
The Stella Count led me to question whether I am as biased as the majority of commercial reviewers. Off the top of my head I couldn't answer the question because my inclination is to choose a book by its advertised content, not by the gender of its author. I plotted my reading for Reddit Reddit and yes I do display a bias, but to the female side of the equation. In 54 reviews, Reddit Reddit is 69% female and 31% male authors.
In compiling our Starts at Sixty Book club statistics, I omitted general book discussion blogs such as favourite authors of all times, summer reading lists, influential authors and the results are slightly higher at 75% female authors.
So Starts at Sixty Community, tell us do you tend to read books by male or female authors and why?