The secrets to making a perfect salad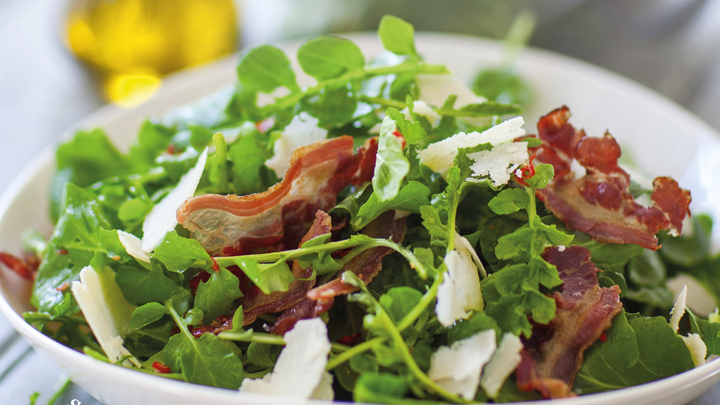 This wonderful recipe book — The Salad Book by Belinda Jeffery takes the reader well beyond the realm of the iceberg lettuce with a few slices of cucumber and tomato on top.
The array of salads on offer is a journey of discovery for the discerning foodie. Belinda herself focuses on using wonderfully fresh, local ingredients that are also seasonal. The photographs which grace this gorgeous book are lovely, and they quite honestly made my mouth water. She is an award-winning Australian author who has already penned many popular recipe books.
In this book, salad is no longer confined to being a bit of limp, overdressed lettuce or coleslaw on the side of your plate at the local bistro. There are brunch, lunch and snack type salads. Then there is a chapter on side salads, antipasti and other bits and pieces. She discusses making your own little pickle dish to accompany a salad, plus some glorious dressings made from a vast array of specially flavoured vinegars. Can you imagine 'Eggplant with honey and goats cheese salad' (p. 140) I certainly can, and the photograph is extremely enticing. Some of her ingredients are quite exotic, as they are Asian, Moroccan  or Mediterranean in influence, however to my knowledge they can be easily sourced from farmers markets, delis and local supermarkets.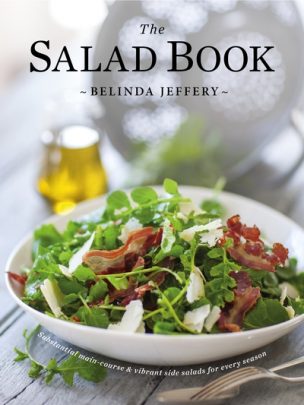 Belinda's chapter on substantial salads is glorious. Here a salad can be the whole meal. It can either  be cold or warm according to season. Can you imagine 'Warm garlic and chilli prawns with chickpea salad'? (p. 158). I certainly can almost taste the flavours now. Although this one sounds quite spicy, the accompanying dressing seems to have a good balance of flavours. 'Chicken and muhammara salad and smoked paprika oil' (p. 174) also looks to have some gorgeous flavours. Muhammara (as Belinda explains) is a middle eastern dip with grilled red capsicums and walnuts. The recipe is of course included and looks super easy.
Ad. Article continues below.
There is also a chapter on fruit salads, 'Blueberries and mulberries and orange scented yoghurt' (p. 251) sounds utterly delicious, and so refreshing. What has also been an excellent addition to this book has been the addition of information on certain food groups. Capsicums and chillis are one, then there is herbs and leafy greens, nuts and seeds, oils and vinegars, eggs, edible flowers and heirloom tomatoes .Each of these pages includes ways to simply prepare these ingredients to their best and most flavoursome advantage. Others are how to prepare also citrus and crunchy little croutons. All of these ingredients can really add to the flavour and texture of a salad, making it a memorable addition to any meal.
What I really love about this book is that it is laid out simply, the ingredients are easy to find, and the recipes themselves have step by step instructions for those of us who are not such confident cooks. The pages are a riot of colour as the photographs celebrate what is so wonderful about the diversity of food we have available to us here in Australia. Any cookbook lover would enjoy this book and I'm pretty sure it will soon have you going to the kitchen to jot down a list of ingredients and heading off to get your supplies. 
The Salad Book by Belinda Jeffery offers salads for every occasion, from a simple snack to a stunning dinner party. Savory and sweet. This book has it all, and I can highly recommend it as an addition to your personal collection of recipe books or it would make an excellent gift for any foodie.
The Salad Book by Belinda Jeffery is available now from Dymocks. Click here to learn more.