The extraordinary life of the Georgian era's most famous whore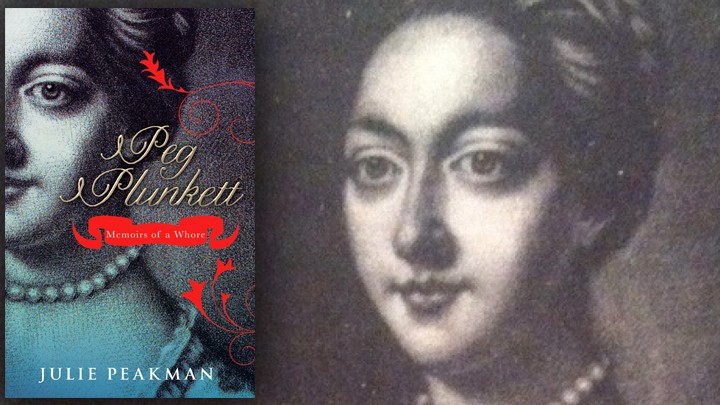 One of the best things about books is their ability to transport you to another time and place. This biography of a courtesan named Peg Plunkett, by Julie Peakman, transports the reader back into Irish culture in the 18th century. Peg kept her own records and had three autobiographical volumes published detailing the scandals and gossip of Dublin society. She used the income from these to bail herself out of financial difficulties after she had decided to forsake prostitution in favour of religion. This gave the current author some great material to choose from in compiling her biography of Peg's life.
Peg was born the daughter of a Catholic landholder with some connections to the aristocracy. Her mother gave birth to 22 children, many of whom perished during their infancy. Peg had a relatively privileged life as a young girl, but lost her mother at an early age which caused her father to decline quickly and leave the control of the estate and the family to his eldest son. This young man made life difficult for his siblings, driving them out to fend for themselves. When male family members refused to provide for females, the best outcome was usually gained by seeking a husband to fulfil the role of provider.
At the tender age of 15 Peg recognised that she needed to find a husband, but she was unwilling to marry for financial support alone. Peg was seduced by a fellow who promised to marry her but failed to follow through. When she became pregnant to this young man, the shame of her situation forced to her to abandon her family and move to lodgings organised by her lover. These lodgings were, as Peg was later to discover, within a house of ill repute.
Ad. Article continues below.
Peg developed a lust for the good things in life, and used men to achieve her independent financial status during a time in history when women found it difficult to own property in their own name and had little in the way of legal recourse for injustice. Unfortunately financial management was not her forte, and her plans for retirement could not be put into effect without her devising another way to finance them. She made the handsome sum of five hundred pounds from the sale of her first two books but found it difficult to rein in her extravagant tastes and penchant for generosity.
One of the illustrations of the underbelly of society at that time discussed in the book is the Foundling Hospital, which was established in 1729. It was established to prevent the death and actual murder of illegitimate children. Unwanted babies could be placed in a revolving basket at the gate of the hospital. A porter would go to the gate and revolve the basket inwards when a bell was rung, to avoid contact with the person who was abandoning the child. Up to two thousand children were deposited each year, but many died of childhood diseases within their first year of life.
I found this book an interesting read which provided an insight into Dublin society as it existed over 200 years ago. The author has carefully researched the era and her subject. A list of references as well as an index appears at the back of the book. There are also some glossy photos of historical Dublin buildings and of people mentioned in the book.  It isn't a light read, but it is a chronicle of the times.
With thanks to Hachette for my advanced reading copy.
Peg Plunkett, Memoirs of a Whore, by Julie Peakman is published by Hachette Australia and available to purchase from Dymocks.