The secrets, mateship and betrayal of wartime Australia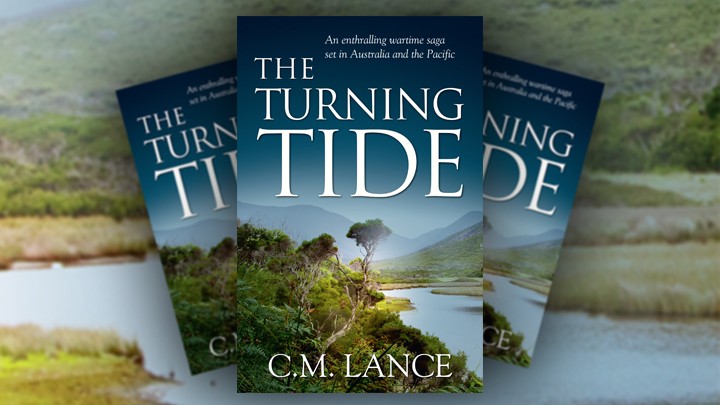 First up, I must say The Turning Tide, by C M Lance is a thoroughly enjoyable book! I found it hard to put down, reading it in just two evenings.
This is a love story, one suited as much to the male reader as to the female. It contains many elements, tenderness, savagery, soft longings, harsh realities, care, hate, trust and betrayal, all set against a backdrop of tides: tidal Broome, Wilsons Promontory's Tidal River, the varying tides of life and times, the turning tide of World War Two and the constant tide that is the human condition. All of this is woven through an appealing read by an excellent author.
It's the 1980s. Mike Whalen is a lecturer in engineering in Melbourne. Although from Broome, where his family built and operated pearling luggers, Mike spent a lot of time in his youth with family friends on a farm near the beautiful Wilsons Promontory. He takes a journey down memory lane, visiting the Tidal River, stopping to look at a memorial to those – Mike included – who trained on the Prom as commandos in the early days of WW2. Strong, lifelong friendships were made.
While there, Mike bumps into Lena, grand-daughter of his friends, the beautiful Helen and debonaire Johnny. It is a surprise to both Mike and Lena, as they know each other from university, where Mike is one of her tutors. Meeting as they do, a friendship forms and we begin to learn their background stories. They are drawn to each other, only in part because of prior associations, and always on the basis of an older/younger family relationship. This is the catalyst to the greater story.
The book recounts three time periods: pre-war, wartime and post-war, moving seamlessly back and forth from one to another. It also recounts three stages of relationship: establishing, strengthening and deteriorating. The balance is well handled. Lance also includes what is effectively a sensitive essay, spread through the book, on homosexuality, something with a direct bearing on the storyline.
Ad. Article continues below.
We are taken to a number of disparate locations, Broome, Wilsons Promontory, Melbourne, Timor, Japan, all graphically presented. Even more so, Lance has drawn strong characters, most of whom the reader grows to like. No punches are pulled, though, when difficulties arise. Although one of these is secretive and discovered only after death and initially comes as a shock, it becomes a major factor in pulling our main character back to reality.
Memories of childhood friendships and separation; the wartime years; a love that was never to be; sad losses and painful recollections from Timor; Hiroshima and the bride he was to lose to radiation-induced haemorrhagic illness; a return to Australia and the adoption of a friend's two children; the loss of a second wife, all contribute to Mike losing direction. The story is beautifully crafted and draws the reader into his life. It all comes nicely together at the end.
I believe the reader will be well satisfied with The Turning Tide. It is one of two outstanding Australian novels I have read in a little over a week. It pleases me to see our fictional literature doing so well.
The Turning Tide, by C M Lance is available to purchase from the publisher