Secrets, lies and murder in the Australian wilderness . . .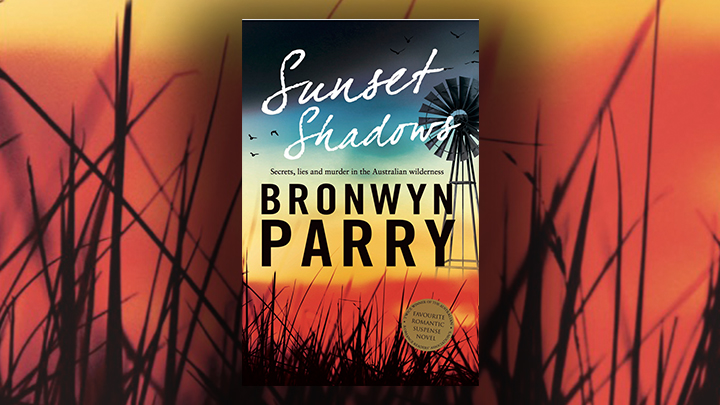 Sunset Shadows is Bronwyn Parry's third book in the popular Goodabri crime thriller/romance series.
Police officers Tess Ballard and Steve Fraser usher us into a suspenseful showdown as we open the first pages of the book. Enigmatic and powerful cult leader Joshua Kristos is about to lead his members into a group suicide. However, the intervention of Tess and Steve prevent this. Shots are fired, there is immediate confusion. What happens next is a complex unfolding of how members of a cult can be so easily brainwashed and coerced into doing things through manipulation and control.
As the novel unfolds, we realise that Tess has her own dark secrets, and we gradually see that her understanding and empathy for the displaced cult members has come from her own first-hand experience being brought up in a similar patriarchal cult. Steve, on the other hand, seems to see a permanent relationship with a woman and a family of his own as being impossible until he is suddenly thrown into the situation of caring for the children of his sister who belonged to the cult.
To say more about the plot would ruin it, however, I did find that the description of complex police procedures and the understanding of how the law works to be very well done in this book. There is more to the 'suicide plot' than initially meets the eye and the darker side of the cult's manipulation and control builds up to maintain the reader's interest in the complex procedures and legalities required to expose this. The reader is drawn in by the excellent narrative describing the ramifications of a cult turned bad, and the consequent aftermath of those who have been left lost and disillusioned. Tess's well-hidden past is threatened to become public knowledge as someone from her past recognises her. Likewise, Steve realises that he has a depth of compassion which he has never known that he had.
Ad. Article continues below.
The characters were well written, it was possible to become engaged with their inner lives and thoughts. However, what let the novel down slightly was that as I have never read the previous two Goodabri novels, several of the characters that were introduced in this third book, were unexplained to me. I prefer a series to have a small summary explaining who the characters are that have populated a  previous book in a series. I was left wondering who these people were and why they had a role to play in this current story.
Sunset Shadows was an enjoyable if at times perplexing read. Bronwyn Parry obviously does meticulous research into police and crime procedures. The reader can fully engage in the chilling escalation of events as the climax comes thundering to a well thought out if slightly too perfect conclusion. As a reader who prefers her crime raw and gritty, I found this a little too cosy for my liking, but for the reader who likes to see the characters end up happy ever after, even with lots of suspense and violence, then this book is a perfect read.
Sunset Shadows, by Bronwyn Parry, published by Hachette Australia is available from Dymocks.
Join Books at 60 on Facebook, or sign up for our weekly newsletter below for more great reading recommendations!