Regency Spymasters: Spy Fall
Spy Fall (Regency Spymasters) by Diana Quincy
Available for $2.99 via Amazon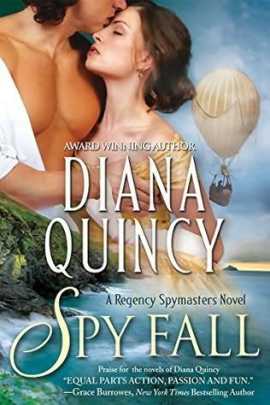 Publisher description: "When a fiery French parachutist lands on a drunken Lord Cosmo Dunsmore, he surmises she's an angel sent from above. But is she a spy after something far more sinister than his debauched soul?
Ad. Article continues below.
A fearless parachutist is out of her depth …
Mari Lamarre is gaining fame for her daring aeronautic endeavours, but her riskiest adventure begins when she collides with the darkly charismatic son of the Marquess of Aldridge. If her mission succeeds, Cosmo's father will be ruined.
A rakehell falls for a dangerous woman …
Surrendering to a fierce passion, the two embark on a torrid affair, even as Cosmo vows to protect his family at all costs. But in doing so, will he risk losing the captivating beauty who's swept into his life and made off with his heart?"
Ad. Article continues below.
Cosmo has had a rough night with way too much debauchery so when he sees an angel floating down and landing right on him, he is certain that he is dead. Little does he know that this angel will breathe more life into him than he has had for many years.
This was not how Mari had planned her arrival! Working as an intelligence agent after France and England have reached a truce post Napoléon, Mari has serious training in the field but this mission has a personal twist to it. Her family's life depends on the success of this mission. As an experienced and avid balloonist and parachutist her access and cover is perfection.
Cosmo sees a chance to be entertained by a provocative and intelligent woman (and if there is a physical connection, even better!) Mari cannot believe her luck when her fall gets her access to the very people her mission was made for! She certainly can't let some dilatant get in her way. Too much is at stake!
Nothing is as it seems in this well written and rather unusual story! The characters and story line are really different and interesting. So many historic references fall right in line although the characters are fictitious. Can everyone come out with what they need?
The way Ms Quincy brings the characters together and develops the story line is sure to keep you glued to the book as page by page as each new turn is revealed.
Ad. Article continues below.
From what I understand Ms Quincy has a series of these stories and I can't wait to read more and find out if the rest are as good as this!
Give this a read. You will enjoy it I am sure.
Available for $2.99 via Amazon
Do you like romance novels? Which is your favourite? Tell us below.