Reading Readit: My Life with Martin Luther King Jr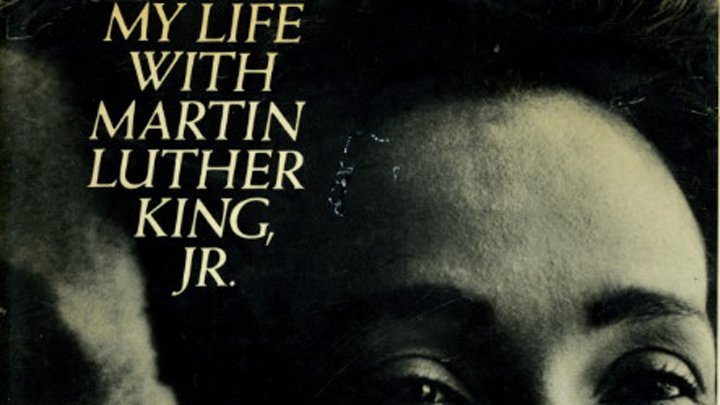 Reading Readit
My Life with Martin Luther King, Jr. by Coretta Scott King
This book is dedicated to THE MEMORY OF MY LATE HUSBAND whose noble life of unselfish devotion to love, justice, and truth I was privileged to share, and from that sharing derived immeasurable fulfilment; and to OUR FOUR CHILDREN Yolanda, Martin III, Dexter, and Bernice who may live to see the realisation of The Dream.
The release of the movie Selma reminded me of a book I have loved since a dear friend gave it to me for my 21st birthday, just a little over two years after Dr King was assassinated in April 1968.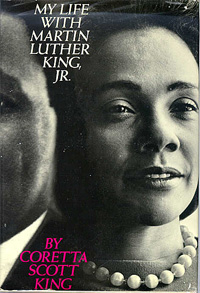 Ad. Article continues below.
It has stayed with me to this day and when Mrs King died in 2006, I re-read it, for the umpteenth time. I find her writing inspirational, personal, public and private at the same time. There are moments when she appears to be speaking to herself, times when she is telling us a personal story and times when she is relaying history.
The love and pride in this book are palpable. The author is a lady who is conscious of the place Martin Luther King Jr holds in the history of the Civil Right Movement, but also conscious of the man behind the public figure; the husband and father lost to a bullet fired by James Earl Ray.
Despite this statement, Mrs King was never a cipher to her husband. She was a woman who was as devoted to the Civil Rights movement as her husband and resisted many attempts by the male members of the movement to sideline her to the role of wife. Mrs King became a liaison to international peace and justice organisations even before Dr King took a public stand in 1967 against the United States intervention in the Vietnam War.
My original copy of My Life with Martin Luther King, Jr., was published in 1969 but there is also a revised version of the book which continues the story of the civil rights movement and the lives of her children. When Dr King died, Mrs King did not don widow's weeds and sit around waiting for her own demise.
In 1956, white supremacists bombed the King family home in Montgomery. Mrs King and the couple's first child narrowly escaped injury. Despite that fact, despite the murder of her husband, Mrs King channelled her grief and energy into fulfilling her husband's work. Years of fund raising, lobbying and planning notwithstanding, Mrs King built the Martin Luther King Jr Centre for Nonviolent Social Change.
Ad. Article continues below.
Seeing Selma recently raised many feelings in me. I was reminded of the idealistic teenager who participated in Vietnam demonstrations and spend hours drinking coffee and singing protest songs. I drew parallels between the 1960s and today and wondered how far civil rights had really progressed.
Mostly, however, I was angered. In what could be a powerful, uplifting, historical documentation of a wonderful life, Coretta Scott King is portrayed as the wronged wife asking her husband if he loved his mistresses, something she denied ever happened. I am surprised that in taking artistic licence, the writers, producers and actors couldn't celebrate both Martin Luther and Coretta Scott King. I just don't see why anyone would think the Kings needed scandal to make their lives more interesting on film.
Martin Luther King was a wonderful man, a recipient of the Nobel Peace Prize. He had the good sense to marry a woman who shared his life, his values and his legacy. See the film by all means, but read the words of the woman who marched by his side, not as a cipher but as an equal partner; a woman just as worthy as her husband of our admiration.
My Life with Martin Luther King Jnr by Coretta Scott King is available to download free of charge here in many different digital formats.
Ad. Article continues below.
About the Author

Coretta Scott King April 27, 1927 – January 30, 2006, was an American author, activist, and civil rights leader. Coretta Scott King helped lead the African-American Civil Rights Movement in the 1960s, she was an active advocate for African-American equality. Coretta met Martin Luther King, Jr. while in college and their participation escalated until they became central to the movement. In her early life Coretta was an accomplished singer and often incorporated music into her civil rights work.
Mrs King played a prominent role in the years after her husband's 1968 assassination when she took on the leadership of the struggle for racial equality herself and became active in the Women's Movement and the LGBT rights movement.
In August 2005, Mrs King suffered a stroke and was left paralyzed on her right side and unable to speak. Five months later, she died and her funeral was attended by four of five living U.S. Presidents and by over 10,000 people.
Coretta Scott King was honoured for her activism in promoting human rights, inducted into the Alabama Women's Hall of Fame in 2009 and is frequently called "The First Lady of the Civil Rights Movement".