Reading Readit: Inside the O'Briens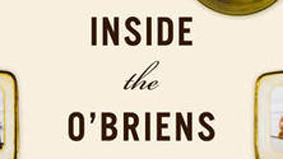 Inside the O'Briens By Lisa Genova
Available for $20.95 via Booktopia
"Ruth O'Brien drank herself to death".
Ad. Article continues below.
Joseph Frances (Joe) O'Brien never questioned the truth of this statement. He and his sister Maggie remember his mother's vile temper tantrums, her slurred speech and can see her stumbling over her own feet. He remembers visiting her in the hospital where she eventually died. No sympathy for her, "Ruth O'Brien drank herself to death".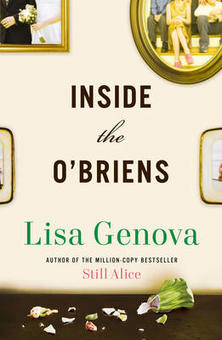 Joe is Irish Catholic to his bootstraps; married to Rosie at 18, they have four children, Joseph Junior (JJ) Patrick, Meghan and Katie. Just to complete the picture, he is a respected member of the Boston Police Department. He inherited his three-story home from his father and the whole family still live together albeit in separate zones.
JJ, a fireman, is married to Colleen; Meghan is a ballet dancer, Katie teaches yoga and Patrick is a barman, except Joe wishes he would find a better occupation. Saddled as he is with his mother's story, Joe is careful with his drinking and never touches drugs. Basically, life just muddles along.
Some days Joe's temper gets the better of him, but the family understands, that's just Joe. On other days Joe is a real butter fingers; he breaks all Rosie's good glasses and even the crystal jug she inherited. More worrying is that he misplaces things, even his service weapon.
At work, Joes prides himself on the clarity of his crime reports, a clarity which assists the District Attorney's in getting convictions. Not particularly tall, his physical stamina and methodical mind stand him in good stead as one of Boston's Finest. When his reports take longer to prepare and it is harder to work a full shift, let alone overtime, he puts it down to stress, an excuse the family is happy to support.
Ad. Article continues below.
When, finally, Joe agrees to see a doctor, he expects to be given a prescription, perhaps referred to another doctor for his trick knee and get everyone off his back. What he does not expect is a diagnosis of Huntington's disease (HD) which will change not only his life, but have far-reaching effects on his family. Huntington's is a lethal neurodegenerative disease with no treatment and no cure. There is a 50/50 chance each of his children has the HD gene and each one carrying the gene may pass it on to their children.
Whilst the personal challenges faced by Joe form the core of this novel, the future faced by his children is thoughtfully and sensitively examined. There is a particular type of courage needed to make the decision to either have the genetic test or decide to live without knowing if you carry the HD genes. How do you feel when you are negative for the gene and your siblings are positive?
There are many heart-warming moments in this novel, two which come to mind are:
Katie reminding her father that she and her siblings looked to him for guidance their whole life, they learned so many life lessons from him; now they need his guidance, his example to show them how to live with HD.
Joe's reassessment of his mother as he finally realises the truth behind "Ruth O'Brien drank herself to death."
Lisa Genova has a unique ability to open our minds to diseases we may try to ignore, most famously, of course, with her highly acclaimed novel Still Alice. As a neuroscientist she knows the disease she writes about, as an author her talent enables her to reduce complex medical terms to concepts which someone without any medical training, such as yours truly, can easily understand. She also possesses the knowledge and talent to tell a sad story without being maudlin. There is an underlying sense of hope in the truth she tells.
Ad. Article continues below.
Inside the O'Brien's is another outstanding novel from an author whose books I find interesting, educational and yes, despite the subject matter, entertaining. Thank you to Gallery, Threshold, Pocket Books (a division of Simon & Schuster), via NetGalley, for my ARC.
About the Author

Lisa Genova, born 11 November 1970, graduated valedictorian, summa cum laude from Bates College with a degree in Biopsychology and has a Ph.D. in Neuroscience from Harvard University.
Ad. Article continues below.
Self-published, Still Alice has spent over 40 weeks on the New York Times bestseller list. Among other awards, it won the 2008 Bronte Prize. There are over 2.1 million copies in print, and it has been translated into 31 languages. It was chosen as one of the thirty titles for World Book Night 2013. Still Alice is now a major motion picture from Sony Pictures Classics.
Left Neglected, Lisa's second novel, and her third novel Love Anthony were also New York Times bestsellers.
Lisa travels worldwide, speaking about Alzheimer's disease, traumatic brain injury, and autism. She lives with her family on Cape Cod.
Available for $20.95 via Booktopia
Do you find it upsetting or educational to read books that focus on difficult issues like alcoholism and hereditary disease? Have you ever read a book about Huntington's disease?