Reading Readit - Fiona McIntosh's strange journey from author to perfumer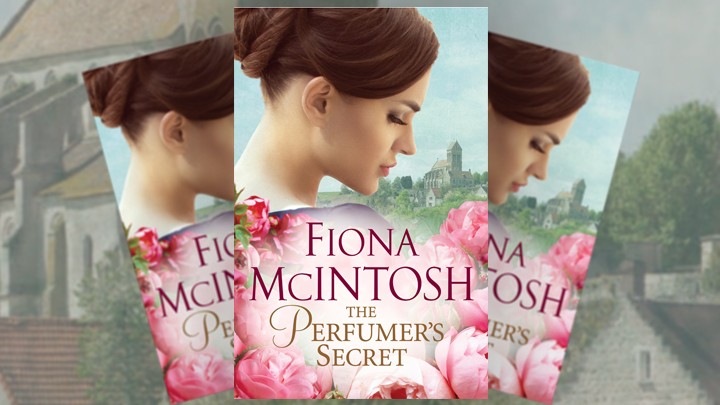 One of life's great pleasures is having the opportunity to speak to an author whose work you admire.
Recently I had the great pleasure of meeting author Fiona McIntosh and what a delightful, thoughtful person she is! In Brisbane for a Dymock's author launch of her latest novel The Perfumer's Secret, we sat down over a cup of coffee and talked; given more time I would have talked/listened for many more hours! Thank you, Fiona.
Anyone who has read a Fiona McIntosh novel knows they always have strong feminine protagonists, women often emerging from their safety zone into the world from which they are barred. So I was curious to know where she found her heroines.
Fiona explained that the period of history from before World War I, then between the wars and onto World War II, fascinates her. Women were emerging from their homes; they became the pioneers of their time. During the wars, they found they were capable of doing a "man's" work. Many found they were stronger than anyone expected and with many men destroyed by the War, physically and/or mentally, they became the sole support for their families. Her heroines are not based on any one woman found in her research but reflect a composite of the pioneer woman at the beginning of the century.
I asked what Fiona what she loves about writing, her answer was "Often the hardest, most intensive part about writing historical fiction for me is also the most enjoyable part – the research." … "Travel is the great educator", says this former travel writer. She says she sees a book as a marathon and the characters uplift her towards the finishing line.
Ad. Article continues below.
Unusually, in The Perfumer's Secret, she knew the place would be Grasse, an area of France she loves, but this time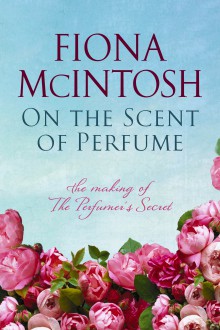 the strongest voice came from a character. Fleurette spoke to the author and for the first time in her writing career, Fiona wrote in the first person.
Because perfume and its construction are so important in this novel, Fiona also applied herself to learning the art of creating perfume. That story in itself is worth reading and with the permission of the publishers, Penguin Random House, the eBook version of the creation of a special perfume, On The Scent of Perfume is available free, click on title for your copy. (It is also available to readers in the printed copy.) I admire Fiona for refusing to use any ingredients not available when her heroine was creating her perfume.
Fiona kindly shared her perfume with her audience and it is very different to those made today; I think it is a delightful floral, reminiscent of earlier times and very interesting. After reading both the book and the eBook mentioned above, I can smell various although not all, the elements which have produced Fleurette.
To the book – In the opening chapter of The Perfumer's Secret, Fleurette tells us: "I was the precious daughter to be cherished and admired like a treasure. I had failed to comprehend until recently, however, that this was not simply a charming notion. I was indeed the family treasure and I could be exchanged like a cow, traded as human currency".  Our heroine tells us this on the way to her wedding, a joining of the great perfume houses of Grasse.
Fleurette and twin brother Felix share "Le Nez" – the Nose – "the divinely bestowed gift of olfactory superiority allowed us such a heightened sense of smell we could distinguish aromas beyond the average person". As a woman, no-one but her Felix will ever call her Le Nez, let alone defer to her opinion and allow she may be the perfect person to create perfumes. Although her forced marriage unites the two great perfume houses of De Lasset and Delacroix and her talent is rare and precious, Fleurette is not welcome near the perfume organ. She is expected to produce heirs, not perfumes.
Ad. Article continues below.
Although the church wedding goes ahead, war is declared and Aimery De Lasset and Fleurette Delacroix do not consummate their union, fortunately for her. After her husband departs for the glory of the battlefield, she receives a letter from his estranged brother Sebastien – this letter changes the course of her life and the lives of those around her. Its contents have the capacity to destroy both families.
For me, all the elements of a great read are in The Perfumer's Secret, by Fiona McIntosh. There are families united and torn apart by war, there are women emerging from their chrysalis, conflict and love. Importantly, I love fiction which includes fact and teaches me something new; in this novel I learned about the journey the rose blossom takes from its bush onto my shelf as perfume.
A feast for the senses and a great read – who could ask for more?
The Perfumer's Secret, by Fiona McIntosh is available here from Dymocks.


Ad. Article continues below.
About the author
Fiona is an internationally bestselling author of novels for adults and children. She is a travel columnist and co-founded an award-winning travel magazine with her husband which they ran for fifteen years before she became a full-time author. Fiona roams the world researching and drawing inspiration for her novels, and runs a series of highly respected fiction masterclasses. Learn more about Fiona here.
Sign up for the Starts at 60 Book Club for more great reading recommendations!