Reading Readit: After This – Survivors of the Holocaust Speak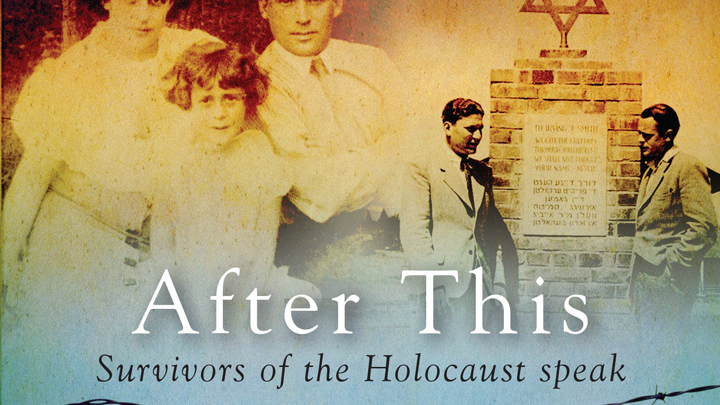 On 27 January 2015, the world commemorated the 70 year anniversary of the liberation of Auschwitz-Birkenau. Some years earlier Alice Nelson, at the request of her mother-in-law, set aside her second novel to work with fourteen Holocaust survivors in order to help preserve the last living memory of that time.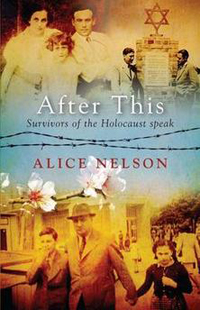 As a young girl raised on a farm I was accustomed to seeing brands and lip tattoos on animals. Our neighbours at the time were a mini United Nations with many nationalities living together in one short street. Mr W was a gentle self-effacing man who attempted to teach me German; Mrs W was a very beautiful woman who cooked food totally foreign to Australia in the 1950's. Their home was where I acquired a taste for rollmops and freshly baked black bread.
I knew they were refugees, but had only a child's understanding of what that meant. Then one day I saw our neighbour with his sleeves rolled up and learned that people too could be numbered like cattle. Mr W noticed me staring and spoke to my parents before telling me the child's version of what had happened to him. That was my first encounter with a Holocaust survivor.
In After This: Survivors of the Holocaust speak, we are privileged to read the recollections of 14 men and women, ordinary people who have lived extraordinary lives. As the author says: "Each individual recounts the story of their life before the Holocaust, their wartime experiences and their new lives as migrants to Australia after the war. The survivors come from a range of different backgrounds and countries but all endured the horrors of the Holocaust. Their experiences are diverse, although of course there are many overlaps: persecution, discrimination, hiding, ghettos, deprivation, trains and camps. Each individual narrates their particular Holocaust experience, but emphasis is also given to their lives before and afterwards, so that they are not portrayed just as victims."
In an age when we try to explain away the Holocaust and argue statistics, this book reminds us the statistics are people; mothers, fathers, grandparents, siblings. As the survivors near the end of their lives, there is a need for their history, their words and experiences to be passed to the next generation. One of the survivors says: "The Holocaust is a monumental part of history, so please do not forget what I am saying. I won't be here forever to tell the story. It is in your hands and the hands of your generation and generations to come – to always remember."
Ad. Article continues below.
In her Introductory Essay, Alice Nelson tells us that the survivors relate their stories not because they seek redemption "…   no redemption could ever be possible and to speak of healing or catharsis belies the horrifying enormity of their experiences." Rather this sharing of their lives, despite the pain it brings is a "way to counteract apathy as well as forgetfulness".
The survivors have not only shared their memories with Alice, they have shared their personal mementos and photos; photos taken before the war, some in their prisons and others in their new homes in Australia. This book and its memories remind us how resilient people can be. Despite its subject matter it is an uplifting read which I recommend to anyone. Betty, Izaac, Fryda, Bill, Rosalie, Rosa, Aaron, Erica, Kurt, Chaim, Richard, Hanoch, Pola and the person who wished to remain anonymous, thank you for sharing your lives with us.
"As the Holocaust recedes in time, as the last surviving witnesses to this terrible memory pass from the world, it becomes ever more important to listen to the stories of survivors. To listen and attend and remember".
Ad. Article continues below.
About the Author

Alice Nelson is a Perth-born writer whose first novel The Last Sky was shortlisted for The Australian/Vogels Literary Award, won the T.A.G. Hungerford Award and was shortlisted for the Barbara Jefferis Award for Literature. In 2009 she was named Young Novelist of the Year by the Sydney Morning Herald.
Alice works as a freelance journalist and teaches creative writing. She is currently completing her doctorate in the School of English and Cultural Studies at the University of Western Australia.
Ad. Article continues below.
After This: Survivors of the Holocaust Speak by Alice Nelson
Available for $21.25 via Booktopia
Published by Fremantle Press