Reading Readit: A story about saying goodbye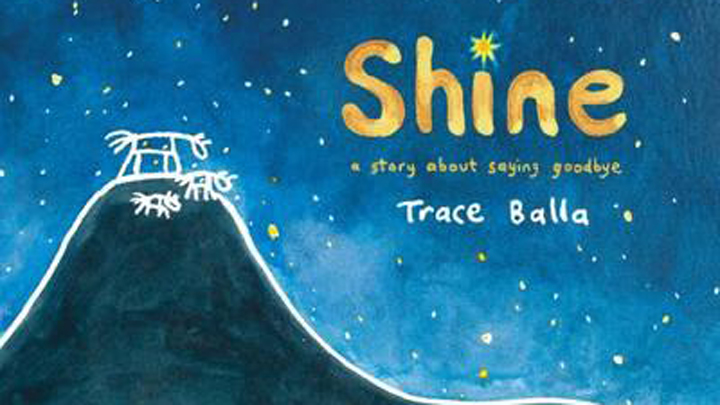 Many of us have experienced grief and have found personal ways of coping; but how does a child cope with the death of their father, their Daddy? If we are lucky we are adults when we face this loss, but what thoughts are in the mind of a child whose daddy dies?
Author Trace Balla faced a time of great sorrow for her family with the unexpected passing of her brother in law. Trace used her talents as a writer to offer comfort to her sister and her children in the best way she knew. The dedication in the book says "Dedicated to Summer, Sachin and Mandy in loving memory of Dean".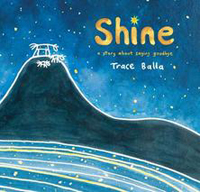 Trace and Mandy's Granny Hitchcock used to say "We all come from the stars, we all go back to the stars" and Trace used this saying to tell a simple story of a young horse who was kind and bright named Shine. Shine lived on a beautiful planet among the stars and one day when he was running with his friends, he saw footsteps in the sand that belonged to Glitter, the loveliest horse he had ever seen. They fell in love, and their love caused two little stars to join their hearts and so their family was formed. But one day Shine, although he did not want to go, told Glitter and the children he loved them and went back to his own star.
I think this is a perfect children's story which takes the grieving child, or adult, on a beautiful journey through love, life and death. It is simply written which adds to the poignancy of the story, but doesn't talk down to the reader/listener. The illustrations are naïve and joyous, complimenting the written word as a good illustration should; it is no surprise the book was written and illustrated by the same person. I can imagine some children asking more questions about "why" which would be a good thing, assisting them to open up and talk about being sad.
Because of the language, the bright and happy illustrations and the positive comforting message that someone who loves you never really leaves you, Shine is truly a gem.
Ad. Article continues below.
The last word belongs to Mandy Balla-Kellett who says of her sister's gift: "My sister Trace wrote Shine for my children, Summer and Sachin soon after their father's death. In the face of a terrible tragedy and a loss so enormous it seemed we could barely breathe, the story of Shine was a moment of peace and beauty that helped a little in explaining the inexplicable. It is a story based on the great love my husband and I shared with each other and for our children, a story of hope that inspired me to carry on, and a story of family – of my children and me as well as my sister and the compassion she was able to show us through her words and pictures. I will be forever grateful to her for creating such a beautiful gift, which she and I hope others may gain some comfort from".
About the Author

Trace Balla is often found sketching in nature, riding her bike with her son, dancing and growing vegies in her garden in central Victoria. Her background is in illustration, community arts, art therapy, animation and writing songs and stories. She has over fifteen years of experience in facilitating creative workshops for diverse groups of people of all ages and abilities.
Ad. Article continues below.
Trace has produced many illustrated books, digital stories with schools and community groups, animations, songs. Her books have a strong environmental theme. Her Illustrations has been described as "quirky" and are often documentary and environmental in content. Trace has a particular passion for "Soul Doll" making and facilitation. You can learn more about this fascinating woman from her website http://traceballa.yolasite.com.
Her first book, Rivertime was published in 2014 and has been shortlisted for the CBCA Book of the Year Awards and the NSW Premier's Literary Awards.
Shine: A story about saying goodbye by Trace Balla