Lies, more terrifying than truth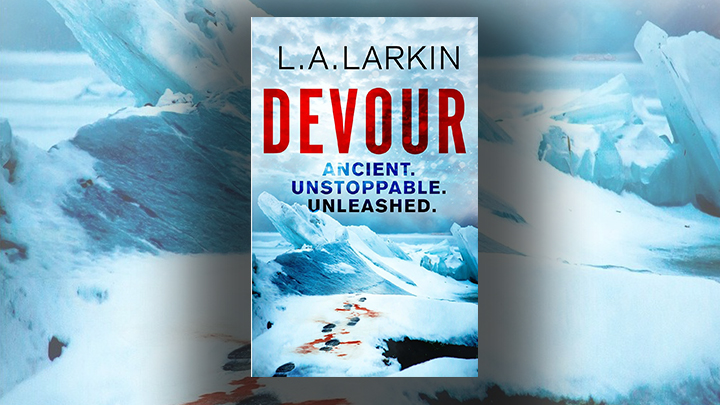 This intriguing conspiracy thriller Devour by L A Larkin begins in Antarctica before moving to Kabul in Afghanistan, then London, and again back to Antarctica.
A select group of scientists and engineers are endeavouring to drill down into Lake Ellsworth, hopefully to discover lifeforms buried deep beneath the ice. One of their top engineers dies in unusual circumstances and the head of the team, Professor Michael Heatherton suspects he was murdered and that someone in their team is trying to sabotage their research.
Meanwhile, investigative journalist Olivia Wolfe, is in Kabul Afghanistan to interview the wife of a terrorist who has agreed to inform on her husband's plan to bomb London. After the meeting between Nooria and Wolfe goes terribly wrong, Olivia is called back to London by her Editor who orders her to investigate the possible murder in Antarctica.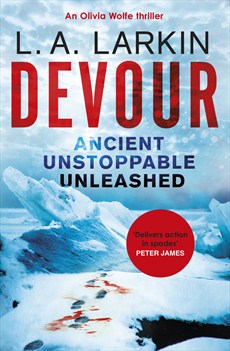 Olivia reluctantly accepts this new assignment and soon becomes immersed in the excitement of the scientists' progress and setbacks.  She quietly becomes convinced there is someone in the camp trying to derail the success of the project, as the Russians are also endeavouring to drill down into the ice before the English get there. A Russian engineer, Yushkov, a crucial member of the team and recently defected to England becomes a possible suspect.
However, before Wolfe can further explore this possibility, sediment and water from the lake is extracted and flown to London for testing in a secret biological location.
Ad. Article continues below.
In the interim, an uneasy threat in the form of a stalker, whose identity begins to surface part-way through the story, keeps Olivia Wolfe feeling as though he knows of her every move.
The novel begins to accelerate in pace as the tested samples are discovered to have the potential to become lethal biological weapons.
From the poppy palaces of Afghanistan to Antarctica's frozen ice lands to a top-secret military base in the Nevada desert, Wolfe's journey will eventually lead her to a man who would obliterate civilisation.
This story is part science fiction and action adventure with twists and turns aplenty and I could imagine it being turned into a James Bond type film.  If you enjoy action/adventure with a drop of espionage thrown in then this is the book for you.
Devour, An Olivia Wolfe Thriller, by L A Larkin published by Hachette Australia is available from Dymocks.
Ad. Article continues below.


Join Books at 60 on Facebook, or sign up for our weekly newsletter below for more great reading recommendations!