Is "place" a physical address or a state of mind?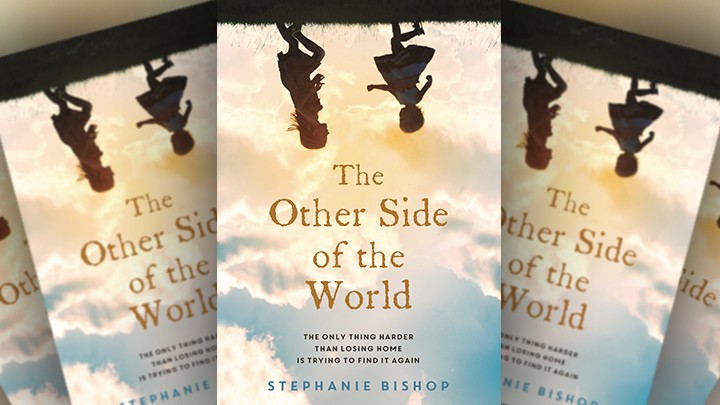 "Come Over to the Sunny Side! the brochure says. Beneath the curve of blue writing two blonde women in red swimsuits skid over Sydney Harbour on waterskis. Australia brings out the best in you. You could be on your way to a sunnier future in the New Year. Fine for your wife. Good for your children."
 I wonder how many people reading this were enticed to leave their country of birth by a brochure promising a "sunnier future" in Australia. Sun, sea, warm days, open spaces, a casual, carefree existence.
The Other Side of the World, by Stephanie Bishop, is the story of Anglo-Indian poet and college lecturer Henry sent to England by his parents in 1945, when he was only 11 years of age. They promised to join him … they didn't.
In 1958, he met Charlotte when he was completing his degree at Kings College London and she was in her final year at the Royal College of the Arts. When Henry finished his thesis, they married in a registry office and moved to Cambridge where he was offered a college lectureship. Three years later their daughter Lucie was born.
What should be a blessing does not seem to be turning out that way; Lucie cries for hours on end and Charlotte is exhausted. As as cold wet winter sets in Charlotte learns she is pregnant again. The walls of their cottage are covered in mould, Charlotte can no longer walk in the woods and Lucie develops pneumonia.
Ad. Article continues below.
Moving to Australia takes shape in Henry's mind; he collects further information, applies for a position; he knows the sun will heal his family. Charlotte, on the other hand, hopes the idea will just fade away; she doesn't share Henry's "strange nostalgia: for the light, the colour of the sky, as if he'd already been there, to Australia". Despite her unwillingness to buy into Henry's dream, she is too tired to fight him and so the family, which now includes baby May, pack up and move to Perth.
Is this the answer? Will their lives be happier, more productive? Will the sun heal as Henry hopes, or will it just throw a harsher light on the cracks?
Emerging author, Stephanie Bishop crafts a very good story, one which had me alternately wanting to yell at Henry and Charlotte, "talk to each other" and totally understanding why their communication breaks down. I wanted to hug and hit them both at the same time.
Stephanie understands pace. As in life, sometimes in the novel, nothing happens and then everything happens at once. Through wonderful prose, she not only creates vivid exterior landscapes, she takes you into the mind of the characters; "place" is not just physical, it is mental. There is a melancholy to the story; it lives in the characters and in their surroundings.
Publishers Hachette Australia, who provided my ARC, are justifiably proud of their emerging Australian authors including Flavel Parrett, Brooke Davis and Stephanie Bishop. I've read novels by all three authors and will read more. Theirs are uniquely Australian voices worthy of our attention.
The Other Side of the World, by Stephanie Bishop, published by Hachette Australia
Click here to buy from Dymocks