Is Hamilton Hume Australia's greatest explorer?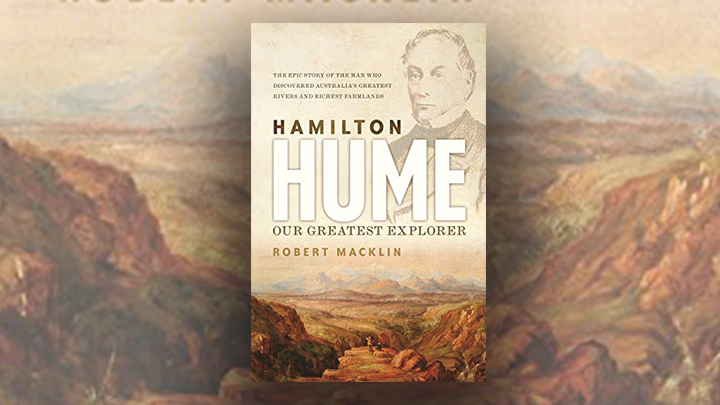 I was thrilled at the chance to review Robert Macklin's book, Hamilton Hume, Our Greatest Explorer. Hume has always been a favourite, greatly due to the reasons propounded by Macklin. Even back in the early 1950s, our widely-read, thoroughly well-informed history teacher explained much that wasn't outlined in available books and the school curriculum. This new book addresses much of the missing information. But more of that as we proceed.
First, as explained in the introduction, the English class system – ridiculous as it must now seem – existed even in the early days of settlement. "Australian-born, (Hume)… was not 'one of us'… he and his compatriots were termed 'currency' as opposed to the British-born 'sterling'; or alternatively 'white natives' to differentiate them from the 'black natives'." Stirling pomposity is perhaps best expressed in the journal kept by the wife of a surveyor, 'Mr Hume is a native but decidedly the best and most agreeable I have seen. They are usually ignorant, awkward and vulgar, or else shallow, conceited and coxcombical.'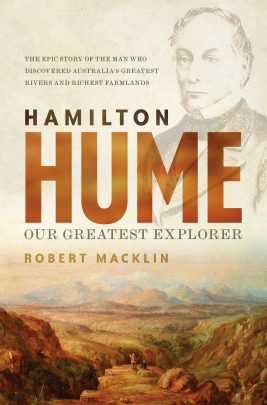 More important was how the Humes did much to establish a co-dependency with the Dharawal people. In the 1810s, the land was in drought and the Gandangara people came down out of the mountains in search of food. Governor Macquarie ordered reprisals against a group of Gandangara men extending into an arrest or shoot command that led to the Appin Massacre. Hume seems to have helped one man, saving him from deportation to Port Arthur.
Even as a teen, Hume spent a great deal of time in the bush, exploring and pressing further afield, blazing trees as he went. He spent much time with the local Aboriginal people, learning their language, and befriended a young man given the name Dual. Dual's presence helped save the young explorer from other native people as his adventures took him deep into the rough and often impenetrable country to Sydney's South-West.
Hamilton Hume was asked by John Oxley to seek out grazing land for Oxley's 500 cattle. Hume explained that all he needed to do was follow his (Hume's) axe cuts to Toom-Bong (later Mittagong). His instructions worked. Another time, Charles Throsby, medical officer and magistrate at Castle Hill, later magistrate and landowner at Minto, approached Hume to lead him to new pasture land, pushing on as far as the Wollondilly River. On return, Throsby, a self-publicist, wrote to Governor Macquarie explaining how he had been sole leader and guide, that Hume had accompanied him.
Ad. Article continues below.
Australian exploration inextricably links many names, Hume and Hovell among them. The Governor, by now Thomas Brisbane, was prepared to equip a team to explore the land from Wilson's Promontory all the way back up to Sydney. Hamilton Hume was chosen, to be joined by ex-RN Captain, now land-owner, William Hilton Hovell. Hume, realising from experience the need for the expedition to start from a populated centre, convinced the authorities it was better for it to go southward. Thus it was they set out from Appin, heading for Westernport Bay.
It did not get off to a good start. The parsimonious Brisbane failed to provide full funding and the two expeditioners supplied most of their own provisions, as well as convict workers, bullocks, horses and carts. In eleven weeks of worsening privation, dissent (Hovell the 'navigator' in doubt on many occasions about continuing, even branching out on his own at one stage), having to leave behind carts with many supplies when the going became too rugged to proceed, crossing large rivers in full flow, including the Hume (Murray), Mitta Mitta and Goulburn, they reached their objective. As Hume suspected on arrival it was, in fact, Port Phillip and not Westernport.
It took a further five weeks of even greater hardship to return, but much of the trip back across what is now Victoria was further west and close to where the Hume Highway now runs. There were differing reports finally produced about the great expedition but perhaps the most telling comment came from one of the convict men taken on the journey. Tom Boyd later wrote, 'But for Mr Hume we would never have come back at all; we would have died in the bush had we depended on Mr Hovell.'
Not surprisingly, a feud developed.
Ad. Article continues below.
Of course there was a whole lot more to Hamilton Hume than his expedition with the iffy Captain Hovell, including the search for what many believed to be an inland sea. Robert Macklin's book gives a detailed look at an Australian-born white explorer and his good works. He was a man who used the knowledge of the native people and succeeded because of it.
Hamilton Hume: Our Greatest Explorer, by Robert Macklin, published by Hachette Australia is available from Dymocks.


Join Books at 60 on Facebook, or sign up for our weekly newsletter below for more great reading recommendations!