If only they'd said No...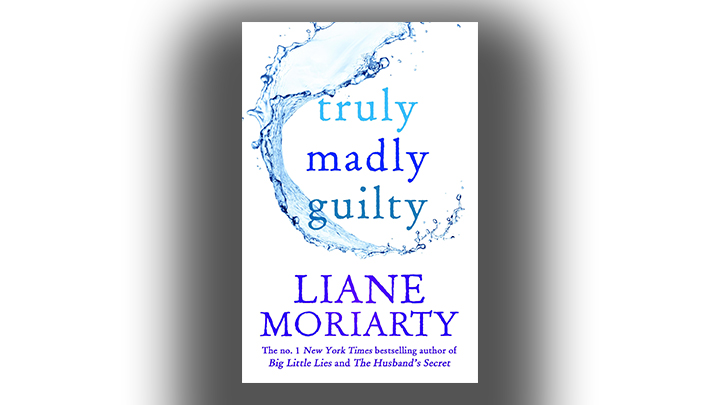 Right from the start, I had the feeling I was going to enjoy Truly Madly Guilty, by Liane Moriarty … after all, cellos are my favourite instrument – equal footing with a grand piano – and Clementine, one of the leading female characters, is a famous cellist in Sydney's flamboyant art world.
The clever teasing theme of each chapter, bringing a plethora of obscure references to a horrible incident that occurred during a recent backyard barbecue and uttered by everyone involved with chasm-like feelings of deep regret and 'what ifs', kept me turning the pages long after my eyes were saying it was time to go to sleep.  There were voices – a myriad of them – with each chapter telling every excruciating moment from that day with the uniqueness of character and tone of all those who were there to witness what happened.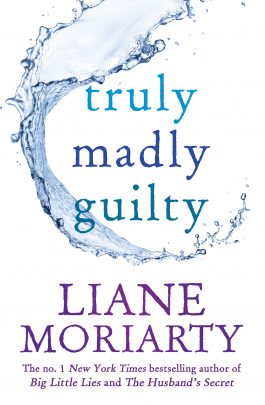 The large curling splurge of water on the front cover soon had me intrigued and trying to fathom what the big secret was to this story – after all, a cover is supposed to hold some clue to drag a reader in.  It only took a few chapters to presume I had worked out what that shocking occurrence was – and as I write this addition to that last phrase, just over halfway through, it turns out I was right – but there is no way I am going to reveal what it is – you will just have to find out for yourself.  And there was always a subtle reminder – a clever ploy by the cover designers to add a layer of texture to the title and author's name so sensitive fingertips traced the indent to keep one intrigued while at the same time eager eyes devoured the words inside.
Probably my only criticism would be that a few passages read awkwardly, and most especially those from the two younger children as the choice of words and phrasing used seemed inappropriate for their tender ages, although it certainly didn't detract from the riveting storyline.
This novel has suspense for the majority of its chapters, building slowly to the reason for the final word of its intriguing title.  Ms Moriarty keeps readers constantly thinking, 'What on earth happened at this barbecue on that glorious day in a backyard in Sydney?'  Different perspectives are brought out through an assortment of characters scattered between the hazy aftermaths of that terrible day, building and building as new portions are slowly revealed.
Ad. Article continues below.
A cast of interesting characters who have all sorts of phobias or issues sitting on their shoulders provides a flurry of different voices telling their side of what happened – every angle filled with mystery and intrigue.  Moment by moment and inch by inch they talk about that disastrous day, building the suspense so cleverly and in their own unique way that you are dying to find out what is going on.
The writing is simple though clever, perfectly building up the suspense between two vastly different worlds – the innocent one that was … and now this horrible new place that has become everyone's new reality.
Deep hidden secrets come out of the woodwork, and sometimes at the most inappropriate times, while the underlying mystery stays hidden, almost as though these are more acceptable than revealing what actually happened on that fateful day.
The word pictures in some places are delicious – like this gem.  "She remembered how she carried Ruby downstairs on her hip while rage and pain raced like bacteria through her bloodstream."  I felt myself seeing through her skin and watching this phenomenon play out in her body.  And then there was this one, "It was only over recent years that her mother's belongings had finally burst through the front door, proliferating like the mushroom cells of a killer virus."
I found most of the characters to be quite unlikable – and some downright obnoxious – however, their individual part in the storyline turned it into a darn good read and you could see why Ms Moriarty brought them into being – they were intriguing, almost as much as the storyline itself.
Ad. Article continues below.
This is the kind of book that as soon as the last page is turned you want to go back to the beginning and start all over again to decipher all those mysterious little titbits buried within its myriad of pages.
I must say that once the secret was out – about 3/4 of the way through- I lost a little bit of my earlier enthusiasm and the story seemed to limp along in places for a while, however within sight of the finish line a few other queries were answered, making it all worthwhile.
Truly Madly Guilty, by Liane Moriarty, is available from Dymocks.


Join Books at 60 on Facebook, or sign up for our weekly newsletter below for more great reading recommendations!