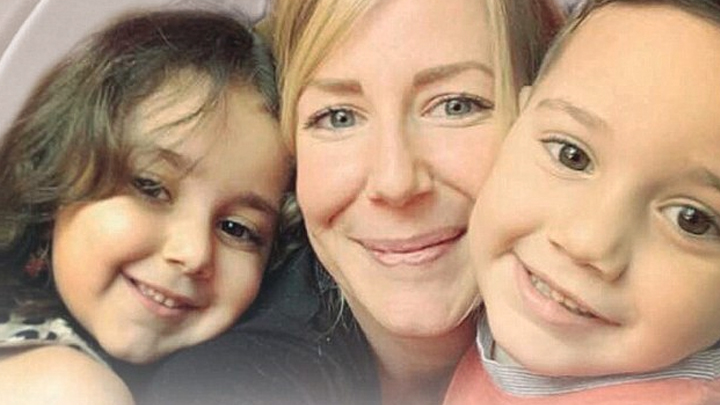 Twenty-one-year-old Sally scored her dream life as an Emirates flight attendant. She was dazzled by a world far removed from the suburbs of Brisbane.
Then, she met Ali, a charismatic charmer with a Californian accent, who she thought was the perfect man. They married and had two children Lahela and Noah.
But the dream life didn't last.
In May 2015, Sally hugged her children as they left Australia for a two-week holiday to Beirut with their father, Ali Elamine. Though separated, custody of two-year-old Noah and four-year-old Lahela had not been an issue. The kids lived with Sally in Brisbane and their dad often visited from his home in Lebanon.
Ad. Article continues below.
To Sally, everything seemed fine. Twenty-four hours after that farewell, Ali said, "The kids aren't coming back."
It was every parent's nightmare… and it was only going to get worse. After 10 months without any contact with her children, missing birthdays and her daughter's first day at school, Sally had exhausted every avenue she could — pleading with Ali, using the courts, calling government departments and contacting the media.
When her husband refused to return their children, and the Australian Government and Lebanese justice system couldn't help, Sally Faulkner flew across the world with a television news crew to try to bring them home herself.
As you all know, Sally's attempt to bring her children home spectacularly failed; in fact, it made things worse for this young mother; she is facing kidnapping charges and she doesn't have her children by her side.
There has been much comment about the involvement of a television crew in the aborted attempt to regain custody of the children from her estranged husband. It has been termed "ill-conceived" and with 20/20 hindsight, it was. But I wonder if it had succeeded would we have cheered the reunion?
Ad. Article continues below.
Ask yourself, if placed in the same situation, what would you do? If your ex-husband, or ex-wife, had taken your children from you for a brief holiday then said they would never return, would you just sit back and say, "Okay that's the way it is! My kids are gone but life goes on" ?
Without considering the legalities of the case, and given the same circumstances, all of us would do anything at our disposal, including using the money and resources of a TV show, to try to get our kids back. Wouldn't we?
All for My Children, Sally Faulkner's own true story, is the story she had to tell — it is the only way her children Lahela and Noah will know she never stopped trying to bring them home.
Share with us — what would you do in Sally's situation?
All for My Children, by Sally Faulkner, published by Hachette Australia, is available from Dymocks.