Fifty Shades of Grey meets My Fair Lady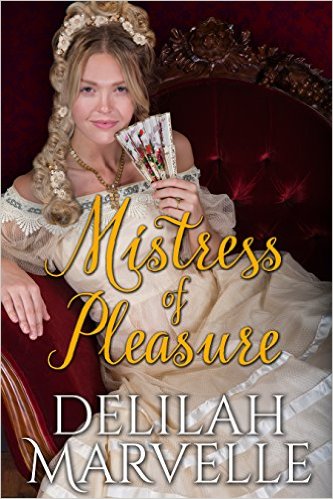 Have you read the Fifty Shades of Grey series but found it just a bit over the top? Have you watched My Fair Lady? Are you an enlightened person? I did not specify gender in these questions because I do believe that there are some enlightened men out there.
OK, combine all of these into a rather unique tale and you will have a good idea of what Mistress of Pleasure by Deliah Marvelle is about.
The story starts out innocuously enough: A grandmother who was once a celebrated demimonde, an innocent granddaughter who has struggled throughout her life to find her place in society shackled by the prejudices against her grandmother's lifestyle choices and a Duke that has struggled to keep himself from being his father.
Maybelle is determined to be her own woman and strike out on her own to experience life in far away places where she can be herself.
Ad. Article continues below.
Grandmother has a mind of her own and believes that her granddaughter needs more than burying herself in the sand in Egypt but knows that forbidding her will only make her more resolute.
The Duke of Rutherford knows what the title demands but the legacy left by his father is that his restraint must be maintained above all else.
These strong personalities are thrown into a situation where each is totally out of their comfort zones and into a place that they never thought they would be.  At odds with what they think they know, they are forced to reassess and adapt in an ever-changing tableau to achieve what they are drawn to.
This story is so different and refreshing. It is entailed and descriptive without being overly graphic, and is amazingly refreshing and funny. The characters are entrancing and make you reluctant to put the book down.
If Ms Marvelle can produce more of these types of offbeat and witty tales she will become my new favourite author. When you find an author that really takes you on a journey it is always a pleasure. I hope to journey long and far with you.
Ad. Article continues below.
The price of this book seems to me to be a bit too low considering how much thought, work and imagination went into it. Ms Marvelle, truly you are a marvel and I cannot wait to indulge in the rest of your tales. I am hoping that your books will keep me very busy (hopefully I do not read all of them in one sitting).
Warning: This book contains strong language and sexual content that may cause respectable people to swoon.
Mistress of Pleasure, by Delilah Marvelle, see here for stockists