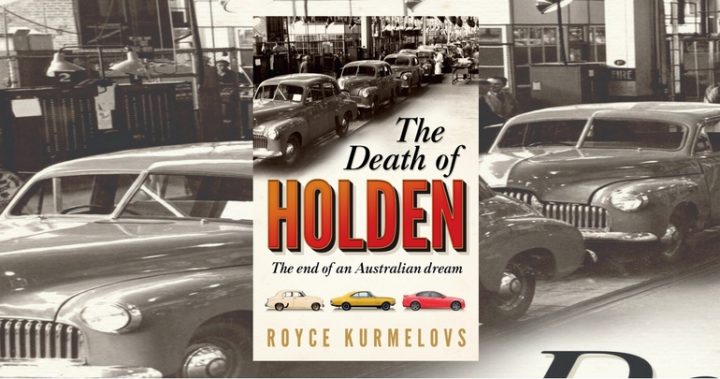 In the mid-1970s, we mimed Ken Sparkes' voice-over to a catchy television jingle, "Football, Meat Pies, Kangaroos and Holden Cars." It was adapted from an American ad for Chevrolet but Australianised with vision of local scenes, local fauna and, of course, local GM offerings including Toranas, Monaros and Kingswoods.
Life was simpler then. We knew who we were and where we were heading; a great deal of that had to do with the car manufacturing industry, a sure sign that any country with the capacity to design and manufacture cars of its own was heading in the right direction.
Fast forward forty years to the sad reality that is Royce Kurmelovs' book The Death Of Holden, The End Of An Australian Dream. Our vehicle manufacturing industry is effectively dead, will grind to a halt before the end of 2017. What a sad end to what began as a cornerstone of the policy planned by Nugget Coombes and implemented by Ben Chifley to set Australia on the path to postwar recovery, led by a strong manufacturing industry.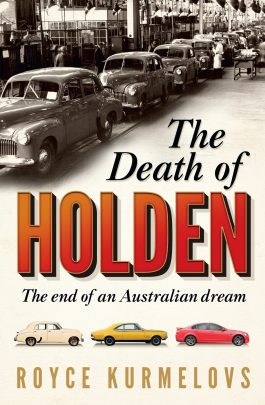 This book, of necessity, comes about through decisions made in boardrooms and in parliamentary meeting rooms but is more to do with everyday people than those in such elevated positions. There are tens of thousands affected by the closure of the Holden factories. Ford – the company that gave the world the ute, designed and developed in Broadmeadows –  is ending its Australian production this October. With the two American manufacturers going, Toyota must also close. The Japanese brand has a factory with its local cars doing reasonably well in the sales charts (Camry with 2000 – 3000 a month and its sister Aurion frequently keeping pace with Ford's Falcon sales at 400 – 500 cars a month) but economies of scale come into play against a solitary manufacturer. It is simply no longer viable.
A sad factor in all of this is the multiplier effect. A car is not merely a product of the company whose name appears on the badge. There is a supply chain – from factories that produce small individual parts to those who fabricate complete assemblies – that are dependent on the end manufacturer. Unless these are able to adapt, to find new openings in other fields within a manufacturing sector ever decreasing, they will close with their employees added to the numbers seeking diminishing job opportunities.
Ad. Article continues below.
Jeff Jurgens was probably born ten years too late because, otherwise, he could have seen out his working days at Elizabeth. There had been a lot of uncertainty in 2009 so he took a redundancy package at the very last minute. "I thought I was going to work there forever. We bought a house locally. Everything we have is basically because of Holden." After leaving and doing a truck driving course, he finally got a driving job by undergoing "…hundreds and hundreds…" of job interviews. Five years later, he works in submarine manufacturing but that is fraught with potential for layoffs due to gaps between projects. He was made redundant for four months but has since been taken back on. Kurmelovs notes, "When he talks about his time with Holden, it is always in the present tense. It's as if he never left."
Ray Cervelli is 70. He works three days a week but actually does five because he is good at what he does and is passionate about it. The factory at which he is a business manager is in Heidelberg. It manufactures fasteners for Holden, Ford and Toyota but with 70% of its business coming from the automotive sector, a decision had to be made to move the 95-y.o. company offshore. Its 43 employees are now redundant. It is hard on Ray because, in all his time in industry, he has never before closed a factory. Ray is forthright in sheeting home the blame. He says "…(the minister) is a *******! Sorry about the language but… he didn't know what he was talking about."
Which is potentially right. It begs the question, which is the lesser cost, subsidise an industry (which money ends up supporting a boardroom somewhere on the other side of the Pacific) and maintain quality Australian manufacturing jobs or throw all those thousands on the scrapheap? Many will manage to retrain and get other jobs. The care industry, as an example, requires ever increasing numbers and some of those leaving car manufacturing will head that way. They have little choice. Without wanting it to sound callous, it is work that will never further develop the country.
Ad. Article continues below.
Royce Kurmelovs has written a thoughtful and thought-provoking book. It ought to be read by all with a social conscience, hopefully, those in a position to make such far-reaching decisions among them.
The Death of Holden, The End of an Australian Dream, by Royce Kurmelovs, published by Hachette Australia, is available from Dymocks.
Join Books at 60 on Facebook, or sign up for our weekly newsletter below for more great reading recommendations!