Dark Days in the City of Light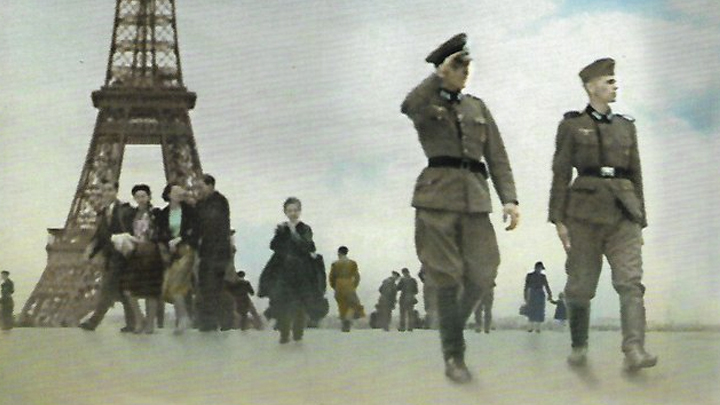 Paris holds a place in the heart of most Westerners. It is the city of love and light, a beacon for traveller for centuries, home of the Belle Epoch for Edwardian England, the home of the literary darlings of the twenties. When something happens in Paris, it is felt all over the Western world.
Paris has recently experienced dark days. And, yet, these are not Paris's first dark days. The time of revolution and The Terror in the 18th century, revolution and siege in the 19th. And in the 20th, the dark days of the German Occupation.
Roland Rosbottom, an American academic who specialises in French history, gives us a well researched study of that time in When Paris went Dark: The City of Light under German Occupation. 1940 – 1944. He has drawn on memoirs, interviews and unpublished eyewitness accounts. The work is carefully annotated. There are 25 pages of listed sources. As Rosbottom says, this is such a subject of fascination, the source material is continually expanding. There is a chronology and list of characters at the front, e.g. Hitler – German tourist.
There are maps, photographs of key players and contemporary street scenes.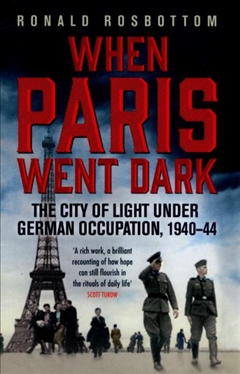 The cover shows Hitler saluting with the Eiffel Tower in the background. This was a carefully stage managed photo opportunity early one morning. Hitler did not stay in Paris. This was one visit and a very brief visit. Rosbottom makes some interesting comments about Hitler's urbanphobia, and his belief that cities were the cause of German people's problems.
Ad. Article continues below.
This book examines the life of the Occupiers. Some did a brief tour of duty and then went back to the front. Others stayed for some years. Parisians tried to make their lives as difficult as possible. There were collaborators and informers, however.
The lives of Parisians became very narrow and boring. There was considerable restriction on their movement as parts of the Metro were closed. The Germans used parts for storage and air raid shelters. Food and fuel were in increasingly short supply and the streets were not lot at night.
On 16th  and 17th July, 1942 there was the Grande Rafle – the collection of Jews. Some remained forced to wear the yellow star and there are touching stories of groups of young people, Jew and Gentile wearing the star. Many were held in a holding prison and many sent East. At first only men were taken, but then whole families. Sadly, a number of Parisians moved into empty apartments or looted furniture and belongings.
It is wrong to speak of 'The Resistance' as there were a number of groups , sometimes opposed to each other in methods and beliefs. Sometimes the resistance was passive. 'Hit and run' resistance was easier in the city and could be quite deadly.Again there are stories of courage, and there are stories of betrayal.
Rosbottom devotes a section to people of note who remained in Paris and lived their artistic lives in 'a bubble'. He is referring to people such as Colette, Picasso, Josephine Baker, Simone de Beauvoir.
Ad. Article continues below.
As the war drew to its close, Hitler ordered Paris to be razed, but the German commander refused. So we have an authentic Paris to visit today.
I suppose we have all seen pictures of the Allies entering Paris to a tumultuous welcome, another carefully stage manages event, although the relief of the Parisians was genuine enough.
And here things turned ugly as Parisians turned on one another with accusations and counter accusations of collaborations. There were executions without due process and revenge  taken.
Indeed, dark days.
If you enjoy history, and/or you want to understand Paris I can thoroughly recommend this scholarly and readable book.
When Paris went Dark: The City of Light under German Occupation. 1940 – 1944, Roland Rosbottom, published by Hachette Australia, is available from Dymocks.