Cookbook Corner - The Sirt Food Diet
The Sirt Food Diet, by Aidan Goggins & Glen Matten, was first published in Great Britain in 2016.
Reviewing this book was much harder than I anticipated. I read some of the introduction and then just had to jump pages (more than 50 in fact) to see what the authors' diet was about. At a glance, the list of the 20 top sirt foods included many foods that had already been named as beneficial by other nutritionists.
As well, in bold on the cover was "lose 7lb in 7 days." I was somewhat cynical; my first thought was that anyone would lose weight if they followed this. It is just like any other diet.
As well, the testimonials at the front of the book did nothing to inspire me as they were mostly from a selective group of elite people.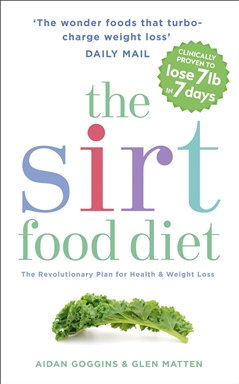 I did go back to the introduction as I knew I had a book review to do. However, one statement on page 4 under a subheading Master regulators of metabolism read, "Since that 2003 finding, excitement over the benefits of Sirt foods has reached fever pitch", I found to be such an exaggeration that once again I was 'turned off'.
Ad. Article continues below.
The author's trial of only 40 people was a small sample for testing especially when they are trying to be convincing with the claims of science and fact. The clinical case studies were, to me, biased with especially selected high profile participants.
There was also no long-term follow-up results of the 40 participants.
But no! Good news! After reading about "muscle adjusted weight loss" and the overviews of phase 1 and phase 2 and "A plan for life" which was so very succinct and clear I did want to know, and read, more. I also loved their observation about the problem of the world's overweight and obese people.
Chapter 1 deals with Science. The science is explained well and Chapter 3 "Masters of Muscle" I found very intriguing but easy to follow.
I also liked the way the authors referred to so many cultures or groups where research has been completed in relation to diet and nutrition related disease including cancer and longevity. (There was no mention of the Adventist group.)
Ad. Article continues below.
The fact that sirtuin activators in combination work in synergy with other foods such as leucine in protein and omega-3 lent great support to the book.
Another positive for me is that from a very controlled and 'limited' prescriptive intake of food at the start of the diet off the authors move on to be "inclusive" of other foods. However, this is still in a very controlled way. It was quite a coincidence that while I was reading the book the tennis was on with Djokovic playing his semi-final. It was noted by the commentators that he ate dates in between games. Dates of a special kind are introduced on Day 4 of the diet.
By Chapter 10, titled, "Sirt foods for Life", the diet is extended to other foods not as rich in Sirtuins, for example, all berries, a selection of nuts and quinoa but following on the principle of inclusion. I loved the observation/warning that quinoa is a gluten-free cereal and great BUT food manufacturers have taken advantage of the "gluten free" need and niche market and placed many undesirable ready to eat products on the market.
Chapter 11, "Sirt foods for All" is admirable and so many other diets that are have been well known before this time are addressed in an inclusive way, for example, the 5:2 diet, low carb diets, paleo diet and gluten free diet.
Finally, the last chapter covering Questions and Answers covers a whole host of individual needs and concerns.
Ad. Article continues below.
The recipe section was very good but their presentation was not at all inspiring.
The amazing 119 references is an indicator of the extensive research that supports the book.
My curiosity was aroused and wanting to know more I did my own research on sirtuins and sirt foods. It was a little mind-blowing in the scientific activity and research that has been and is taking place.
Being a little biased in my interest in nutrition and in the ageing process I concluded that the authors have overlooked a huge population of older people. Many articles I researched showed a strong linkage between the maintenance of healthy cells and ageing. The book did however, give a brief mention of the linkage of sirt foods and Alzheimer's disease.
In conclusion, a really worthwhile read after a not so good beginning.
Ad. Article continues below.
The Sirt Food Diet, by Aidan Goggins & Glen Matten, is available from Dymocks.


Join Books at 60 on Facebook, or sign up for our weekly newsletter below for more great reading recommendations!